Community Calendar: April 4 - April 10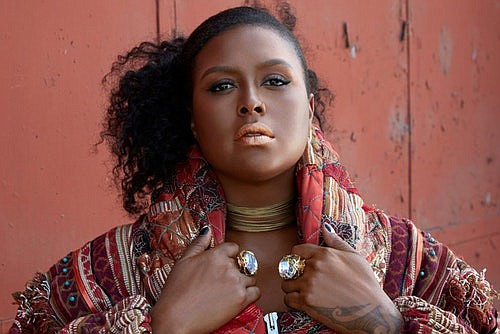 Greetings! We open up with a respectful nod to our beloved friend, the great Susan L Taylor. Our GBE "Living in the Spirit" Month 2019 highlights "A Walk into Slavery," a multi-media meditation about reconnecting with one's ancestors and redefining one's purpose. While visiting Africa, Hollis King, an international photographer, encounters the slave dungeons of West Ghana—the final stop for many before their Transatlantic journey into slavery in the Americas. Enhanced with photographs, pencil sketches, journal entries, videotaped interviews, and live music, we learn that in order to move forward one must go back. One Week Only! April 30 thru May 4. Presented by The Billie Holiday Theatre, The New Dance Space, Restoration ART1368 Fulton Street, Brooklyn, N.Y.
THEATER
"Ain't Too Proud" is the electrifying new musical that follows The Temptations' extraordinary journey from the streets of Detroit to the Rock & Roll Hall of Fame. Five guys—one dream with a sound that would make music history. Written by three time Obie award winner Dominique Morisseau, directed by two-time Tony award winner Des McAnuff ("Jersey Boys"), and featuring choreography by Tony nominee Sergio Trujillo ("Jersey Boys," "On Your Feet"). The musical brings the untold story of this legendary quintet to irresistible life on Broadway. Imperial Theatre, 249 West 45th St., Manhattan. For more information, call 844-379-0370 or visit www.secureboxoffice.com/.
"Ain't No Mo" is a satirical odyssey portraying the great exodus of Black Americans out of a country plagued with injustice. After scenes of the moments before, during, and after this outrageous departure, the production explores the value of Black lives in a country turning away from the promise of a Black president. Now through April 28 at 7 p.m. The Public Theatre, 425 Lafayette St, Manhattan. For more information, visit www.publictheatre.org.
"White Noise" Suzan-Lori Parks' world premiere play about race, friendship, and our rapidly unraveling social contract. Anspacher Theater, 425 Lafayette Street, Manhattan; through Sunday, April 21. For more information, visit www.broadway.com/shows/white-noise.
DANCE
For 50 years, Dance Theater of Harlem has inspired the world with a revolutionary vision of a multiethnic ballet company. Co-founded by the great Arthur Mitchell and Karel Shook, the company performs ground-breaking works with power and grace. Following Arthur Mitchell's sudden passing in September, the company dedicates the 50th anniversary season to him, his life and legacy. The Company's New York season at City Center runs April 10 - 13. Join the celebration! For more information, visit www.danctheatreofharlem.org.
MUSIC
Women of R&B Karaoke Night: Old School vs New School! Friday April 5, WBLS's Shaila Scott and HOT 97's Miabelle are hosting an epic karaoke night: come out and hear the best of the 90s right up to hottest hits of today. For more information, visit www.ticketweb.com/event/wbls-shaila-scott-women-of-sobs-tickets/.
Dizzy Gillespie Afro Cuban All Stars April 9-10. Shows 8 p.m. and 10:30 p.m. Blue Note, 131 West 3rd St, Manhattan. For more information, visit www.ticketmaster.
Apollo Music Café "Celebrates Africa Now!"Featuring Tosin and Allinor, Friday, April 12 at 10 p.m. Apollo Theater, 253 West 123th Street, Manhattan. For more information, visit ticketmaster.com.
Carnegie Hall presents Deva Mahal with her debut album, "Run Deep," Sat., April 13 at 10 p.m. in this one-night-only performance with inspiration from generations of female vocalists and songwriters, including special guests Meshell Ndegeocello and the Resistance Revival Chorus. Doors open at 9 p.m.  The first 200 concertgoers receive a free drink. Call Carnegie Charge and mention code WTG31206 at 212-747-7800.