Educational summer vacations for kids
SHERYL NANCE-NASH | 4/4/2019, 3:06 p.m.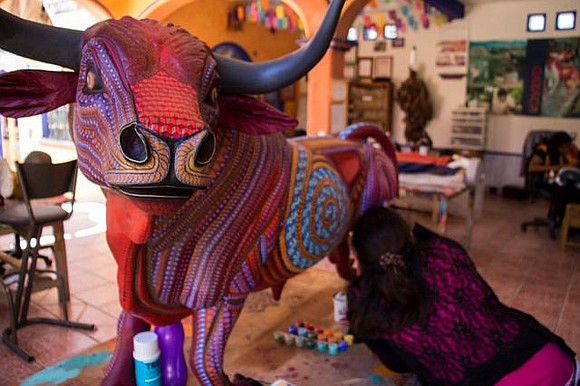 Now is the time to start planning your summer vacation. Maybe you've already done Disney and want a different kind of vacation, one with purpose. With a little digging, you can find opportunities that offer fun and an educational experience for the family.
Here are a few ideas.
Oaxaca, Mexico
How about a mother-daughter educational jaunt? Spend six days and five nights on Discover Corps' women and girl's empowerment trip exploring Oaxaca with a guide. Meet the local women of the Teotitlán Valley. Mingle over a meal with Zapotec women and girls, learning about how they are supported through microfinance loans. Visit their businesses and lend a hand in a dyeing and weaving workshop, chocolate-making class, as well as taking time to shop for ingredients at the local market for a traditional cooking class with the women. In the village of San Martín Tilcajete take a workshop in making alebrije, or brightly colored imaginary creatures that play an important role in Mexican folklore (and are the inspiration for Pixar's film "Coco"!). When not interacting with the local women and children of Oaxaca, you'll visit Monte Albán, a UNESCO-protected archaeological site regarded as the most significant in the Oaxaca Valley. Back in Oaxaca city, also a UNESCO-protected area, explore the gorgeous churches and historic buildings as you walk through the colorful streets. End the journey with a special farewell dinner at Casa Oaxaca, considered by many to be one of the best restaurants in the world.
Global citizen adventure
Send your teenagers off on a do-good mission. CAS Trips hosts summer camps that they call "Global Student Exchange Trips," where international students from around the world come together to work on making a positive change and implementing the United Nations Sustainable Development Goals throughout their itinerary. Creativity, activity and service are essential to the program. Creativity could mean visits to museums, or attending a classical concert, for example. Action might include yoga or an urban treasure hunt, and service cooking for the homeless. Current camp destinations include Prague, Medellin and New York. The company also customizes educational vacations for small groups to destinations like Bhutan, China, Berlin, Krakow, among others.
Lake Champlain, Vermont
Basin Harbor on the shores of Lake Champlain is family-owned and family-focused. No matter the age, there's something to learn. Basin Harbor's Kids Camp offers opportunities divided into three age groups (4-5, 6-8, 9-12), featuring wholesome fun that challenges young minds, like STEM projects, as well as sports, games, water fun, arts and crafts. Teens kayak, swim, boat, play field and Wii games. The 18 and up crowd will get an education from tours of the beehives and guided history tours. There are lessons for golf, wake surfing and tennis.
Puerto Vallarta, Mexico
If you're looking for a spot to soak up the sun for yourself and give your children something to think about, consider the Marriott Puerto Vallarta Resort & Spa. You love the location. It sits on a sandy slice of paradise between the Sierra Madre Mountains and Banderas Bay and it's near downtown too. The Kid's Club for those 4-12, has staff to teach children about Mexican culture, offering Spanish lessons, barro-clay pottery painting, bilingual folktales and Mexican cooking lessons. The entire family can learn about sea turtles by participating in the conservation program, where you can help release newly hatched turtles into the ocean during nesting season.