Reparations for descendants of the slave trade emerges as Democrats' campaign platform
Stacy M. Brown, NNPA Newswire Correspondent | 4/8/2019, 5:10 p.m.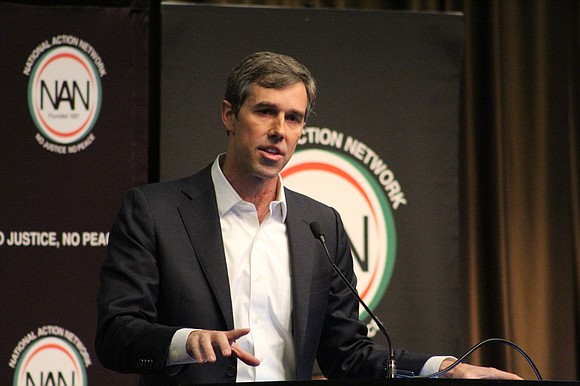 Reparations have fast become a major platform for Democrats seeking the 2020 presidential nomination.
Former Texas Rep. Beto O'Rourke joined that movement at the recent National Action Network convention when he said he'd support legislation for a slavery reparations commission if he were to win the White House next year.
Senators Kamala Harris (D-Calif.), Elizabeth Warren (D-Mass.), Bernie Sanders (D-Vt.), Cory Booker (D-NJ) and former Housing and Urban Development Secretary Julian Castro have also raised the topic of reparations in this early phase of their presidential campaigns.
"Not only do I support it, but I have legislation that actually does it," Booker said earlier this month during a Town Hall. "In fact, I've got the only legislation, I think, in the entire Congress that Columbia University says would virtually eliminate the racial wealth gap in our country," Booker said of his so-called "Baby Bonds" proposal.
Slavery and the Atlantic slave trade are among the most heinous crimes against humanity committed in the modern era, yet no one-time slave society in the Americas has paid reparations to former slaves or their descendants, notes historian, author and history professor Dr. Ana Lucia Araujo, who authored the groundbreaking 2017 book, "Reparations for Slavery and the Slave Trade: A Transnational and Comparative History."
At 288 pages, Araujo's book counts as arguably the most in-depth and carefully researched material on the subject of reparations.
Reviewers have given it more acclaim.
James Walvin, Professor of History Emeritus at the University of York in the United Kingdom, noted the trans-Atlantic debate about reparations for slavery has long needed a serious historical explanation.
In Dr. Araujo's book, "We have the answer," Walvin said, adding that the book is a "sweeping study, grounded in meticulous research, [which] explains how and why reparations have become so pressing a modern-day issue."
"It is essential reading for everyone concerned – whatever their viewpoint," Walvin added.
A history professor at Howard University, Dr. Araujo looks at slavery reparations movements that reaches across time and space and she considers enslavement, emancipation, and the continued refusal of every single slave-owning society in the Atlantic world-the USA, Britain, France, Brazil, Portugal, and Spain, especially to address the centuries of theft that made them wealthy and built the modern global political economy.
"The [presidential] candidates did not start addressing the issue suddenly. But there is now a momentum," Dr. Araujo said.
"We know that the history of demands of reparations is an old one. When in March 2014 CARICOM released its 10-point plan demanding reparations to European nations, it had an immediate impact on the United States public sphere," she said.
Two months later, Ta-Nehisi Coates published his essay "The Case for Reparations," and other newspapers also covered the debate.
"Since then the debate has been evolving more intensely," Dr. Araujo said.
"Also, in those years and up to now we see a true avalanche of news related to the slave past in Europe, Africa, and the Americas, especially in the United States," she said.
Dr. Araujo continued: