Reparations for descendants of the slave trade emerges as Democrats' campaign platform
Stacy M. Brown, NNPA Newswire Correspondent | 4/8/2019, 5:10 p.m.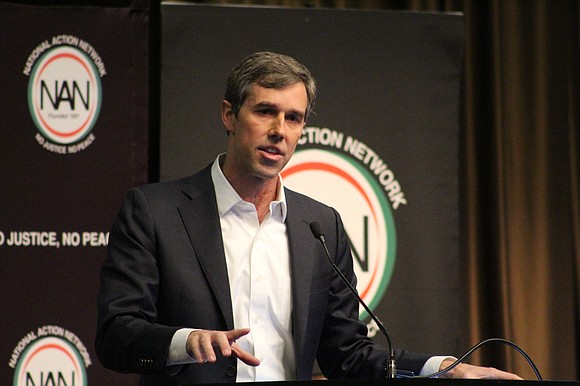 "Remember that Bernie Sanders was asked about his support to reparations in 2016, to which he answered the issue was too divisive.
"Very probably he understood reparations as payments to African Americans. [Hillary] Clinton did not even consider the issue."
With only two frontrunners [in the 2016 presidential election] that would succeed the first black president of the United States, the issue of reparations could not become a central element in the debate, Dr. Araujo explained.
Now, with several candidates running for the Democratic Party presidential primaries bringing this discussion back can certainly attract black voters, she said.
"[Another Democratic presidential candidate] Marianne Williamson was the first to bring the issue of reparations, that emerges within a religious framework such as atonement and amendments," Dr. Araujo said.
"She proposes a $100 billion dollar plan to be paid over 10 years to African Americans. Later on, Elizabeth Warren and Kamala Harris also declared they supported reparations but were rather vague regarding what that would mean," she said.
Sebastian Hunt, author of "Black Diets Matter," said he still found it odd that candidates are speaking up now.
While slavery devastated African Americans, the War on Drugs would later decimate blacks and the old Homestead Act disproportionately benefitted white Americans, Hunt said.
"If you can dole out free land disproportionately to whites and move the goalposts all of the time with the types of insidious policies discussed in 'The New Jim Crow' then, yes, reparations are due," he said.
For the 2020 presidential candidates, it not an expensive proposition for them to make statements about reparations because very often what those running mean by the term reparations is broad and vague, Dr. Araujo said.
However, in a campaign loaded with candidates, those who embrace the issue of reparations perhaps have more chances of attracting African American voters, she said.
"In this context, new organizations such as ADOS (American Descendants of Slavery) also emerged and certainly contributed to the visibility of the debate on reparations," Dr. Araujo said. "Unlike previous movements, ADOS gained more visibility through the presence of its founders on social media that helped disseminating the #ADOS hashtag," she said.
However, Dr. Araujo said what shouldn't be forgotten is that present-day movements draw from the long history paved by the associations of ex-slaves demanding pensions at the end of the 19th century.
They also draw from others like Queen Audley Moore – whose activism among others promoted a Pan-African consciousness –, James Forman's Black Manifesto, and the Republic of New Africa and NCOBRA – National Coalition of Blacks for Reparations in America, she said.
"All of these movements, some of which gathered thousands of members, were largely repressed," Dr. Araujo said.
"Then if history teaches one something about the movements of reparations is that like abolition of slavery, reparations will never be a gift given by one individual to African Americans or individuals whoidentify as descendants of slaves," she said.