COMMENTARY: Omar Faces Rightwing Backlash as She Forces Uncomfortable Conversations About Israel, Palestine
Barrington M. Salmon,NNPA Newswire Contributor | 4/17/2019, 6:37 p.m.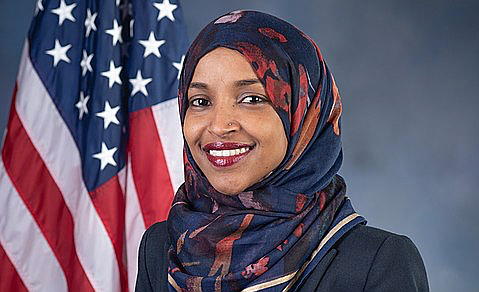 For the last several months, freshman Congresswoman IIhan Omar (D-MN) has weathered sustained attacks from Republicans, Fox News and other conservative elements because she has the temerity to question the intimate, decades-long relationship between the United States and Israel.
In addition to an avalanche of intense criticism, smears and lies from Republican and conservative critics, Omar has had to deal with death threats from people identified as being supporters of President Donald Trump and others opposed to the fact that a Muslim woman is in Congress.
The threats have gotten so intense, that House Speaker Nancy Pelosi ordered an increased security presence around the Minnesota representative, who to her credit, isn't backing down from the campaign of hate launched by Trump, Congressional Republicans and rightwing media outlets.
"I did not run for Congress to be silent," Omar said on Twitter following a tweet from Trump showing a video of Omar and images of the twin towers ablaze on 9/11 after an Al Qaeda attack in 2001. "No one person – no matter how corrupt, inept, or vicious – can threaten my unwavering love for America. I stand undeterred to continue fighting for equal opportunity in our pursuit of happiness for all Americans."
Trump, the New York Post and Fox News, each owned by media magnate and Trump friend Rupert Murdoch, and the Republican National Committee's Ronna Romney McDonald, have led the way in the criticism, smears and deceptive coverage and which has triggered pushback and calls to cease this dangerous behavior from Rep. Alexandria Ocasio Cortez, Sens. Bernie Sanders and Kamala Harris, Women's March creators Linda Sarsour and Tamika Mallory and a range of other women and activists, including Rashad Robinson of Color of Change, journalist and activist Shaun King and others.
Tlaib, one of Omar's staunchest defenders, called on Democrats last week to speak up in support of her colleague. And they have.
Enough is enough, she said.
"Taking it out of context, this is just a pure racist act by many of those — hateful acts by those — because she does speak the truth," Tlaib told MSNBC's Hallie Jackson. "I'm really outraged because as a person who has gotten direct death threats myself, I know that her life is put in more danger."
"The fact that these people are irresponsibly taking those words out of context and endangering the life of Rep. Omar is immoral, it is wrong, and it needs to be called out by many my colleagues not just myself. They need to stop targeting her this way, it is absolutely putting her life in danger."
Ocasio Cortez and Prof. Ibram X. Kendy said the same.
"Members of Congress have a duty to respond to the President's explicit attack today. @IihanMN's life is in danger. For our colleagues to be silent is to be complicit in the outright, dangerous targeting of a member of Congress. We must speak out," she said.
American University Prof. Dr. Ibram X. Kendy also offered his public support.
"It goes without saying that #IstandWithIIhanOmar. And anyone who doesn't not stand with @IIhanOmar stands with Islamophobia, with racism, with politicians deploying lies to inflame religious and racial terror in the country. There is no middle ground in this struggle," said Dr. Kendy, Director of AU's Antiracist Research & Policy Center, a National Book Award winner and author of 'Stamped From the Beginning: The Definitive History of Racist Ideas in America."