Justice in Limbo: Chanel Lewis' sentence postponed
By Stephon Johnson Amsterdam News Staff and Nayaba Arinde Amsterdam News Editor | 4/18/2019, midnight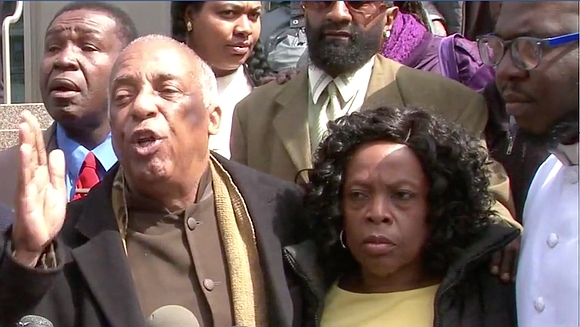 "My son is not a murderer," Veta Lewis told the Amsterdam News. "He didn't get a fair trial. He was railroaded by the police, the prosecution and the judge."
While awaiting the sentencing Karina Vetrano's parents said with the conviction they had justice. Now Chanel Lewis might have a second chance for the same.
Lewis' sentencing Wednesday was postponed until next week due to allegations of potential juror misconduct. The court will hold a hearing on the allegations on Monday, April 22. Prosecutors agreed that the hearing should go forward.
"A killer is still on the loose," proclaimed Brooklyn Assemblyman Charles Barron. "Chanel is innocent."
Earlier this month, jurors found Lewis guilty of all counts in the murder of Vetrano.
When the AmNews contacted The Legal Aid Society and the Queens County district attorney both offices declined to comment.
Days before Lewis' conviction lawyers from The Legal Aid Society said they received an anonymous three-page letter alleging the New York Police Department conducted a "racialized" search after a DNA phenotype test showed material collected from the crime scene belonged to a Black male. Then Chief of Detectives Robert Boyce used that fact to take the DNA of all Black men arrested in Queens and Brooklyn and swab anyone who had been arrested in Howard Beach. This led to more than 360 Black men being swabbed for DNA.
As a result, Lewis' defense tried to submit a motion seeking a hearing to address the prosecution's failure to disclose this evidence and a motion to re-open the pre-trial suppression hearing but were denied by Judge Michael B. Aloise.
Lewis' defense also noted that the police held Lewis captive for 12 hours before he "confessed" to the crime—twice changing the details each time. The confessions were videotaped, the jury asked to see them, but they didn't end up viewing them. They were told there was a technical problem with the audio/visual equipment in the courtroom.
Lewis allegedly matched the DNA found on Vetrano. Experts have questioned whether or not it was conclusive.
On Aug. 2, 2016, 22-year-old Lewis was accused of sexually assaulting and strangling Vetrano as she jogged near her Howard Beach, Brooklyn home. Hours after the assault, Phil Vetrano—Karina's father—found her body in Spring Creek Park with her teeth broken.
Lewis' first trial in November ended with a hung jury. Lewis was found guilty on 16 counts after five hours of jury deliberation; he faces up to life in prison without the possibility of parole.
After months of no progress in the investigation, NYPD Lt. and Howard Beach resident John Russo testified in court that he spotted a young Black man in the neighborhood two months before the murder, tailed him for suspicious activity and called 911 leading to a stop-and-frisk. Lewis, from East New York, told the officers he was looking for a place to eat and was driven to a McDonald's in the Rockaways.
Cheers and applause from Vetrano family and supporters filled the courtroom when the verdict was read that Chanel Lewis was guilty of the murder of Karina Vetrano. But the doubts and controversy continued.