Famed '50s group The Chantels fêted in the Bronx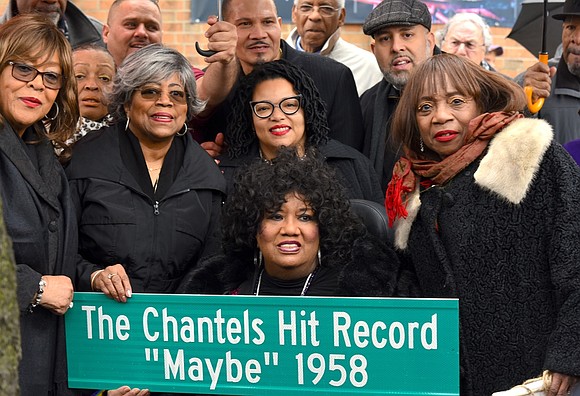 On April 5, famed '50s female group The Chantels received a commemorative street sign at the corner of West 166th Street and Prospect Avenue, in the Bronx, in front of St. Anthony of Padua's Church where the group began. The group also celebrated their 60th anniversary in the music industry, and were honored with a reading of a proclamation proclaiming April 5th as "The Chantels Day" in the Bronx.
The event included and acknowledged the original members Arlene Smith, Jacqueline Landry Jackson (who had passed in 1997), Lois Harris Powell, Sonia Goring Wilson, Renee Minus White and newest group member Neomi Ortiz Brink.
Organized by Beverly Lindsay-Johnson of Kendall Research and Entertainment, Clyde Frazier Sr. of the Frederick Samuel Foundation of NYC and musical director Hal Keshner, The Chantels' street sign unveiling was followed by a musical program at St. Anthony of Padua's auditorium which concluded with the Chantels performing some of their hit song "Maybe."