Jazz Notes: Jazz Museum, Art & Origins, Harrison & Eliot Jazz Heroes, P's Place
Ron Scott | 4/18/2019, 2:01 p.m.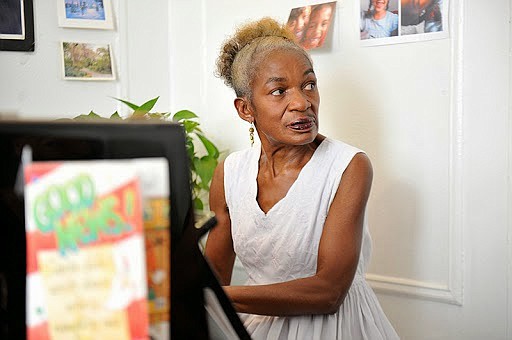 Arturo O'Farrill & the Afro Latin Jazz Ensemble featuring the French American singer, lyricist Malika Zarra will appear at the National Jazz Museum in Harlem (58 West 129th Street) April 18 at 8 p.m.
The pianist, composer, and director for the Afro Latin Jazz Orchestra is best known for his contributions to Afro-Cuban jazz. Zarra is a Moroccan-born, French American singer, composer, and music producer known for singing in Moroccan Arabic, Berber, French and English. She became interested in jazz because it was similar to Arabic traditional music in the core importance of improvisation. She performed or recorded with John Zorn, Will Calhoun, Lonnie Plaxico and Michael Cain.
On April 23 at 2 p.m., "Toes Tapping, Brain Mapping" also takes place at the National Jazz Museum in Harlem. Join neuroscientist Paula Croxon and pianist Helen Sung for an afternoon of jazz with a side of science about how and why music touches us so deeply.
This program is designed for people with dementia, their care partners, friends and families.
On April 19, the Museum of Art & Origins presents Uptown Emissaries & Visionaries, a compilation of music and poetry to stimulate understanding of the Afro Atlantic consciousness. The noted artist and scholar of African art, and the author of essays, reviews, and books on traditional African art and Contemporary art George Nelson Preston will perform from his collected works of poetry with We Three Strings featuring violinists Charles Burnham and Gwen Laster on viola Melanie Dyer, cellist Alex Waterman, bassist Ken Filiano and drummer Michael Wimberly.
Admission is $20 food and wine will be served. Event takes place at 430 West 162nd Street in Manhattan.
Uptown Emissaries & Visionaries is a series of 10 Sunday afternoon open sessions with NYC's creative music improvisers and three evening performances, April 19 through Oct. 26, 2019.  To experience ways in which spoken word, music and visual arts converse with each other in a historical and contemporary Afro-Atlantic narrative, visit the complete schedule at www.museumofartandorigins.com.
The Jazz Journalists Association announced honors for 22 "activists, advocates, altruists, aiders and abettors of jazz" in 20 U.S. cities, filling the 2019 slate of Jazz Heroes. From Amherst, Massachusetts to Los Angeles, California, Seattle to South Florida, all the heroes are one way or another and sometimes simultaneously presenters, educators, nonprofit administrators, public faces of grassroots organizations or active players sustaining and developing America's native-born music in their local communities and beyond. The complete list of honorees, with photographs and biographies, appears on the JJA website.
The 2019 two New York City Jazz Heroes are pianist, singer and Sunday Jazz Parlor performer/hostess Marjorie Eliot and promoter, mentor and jazz magazine founder Jim Harrison.
On April 20 Harrison's Jazz Hero award presentation will take place at Sista's Place (456 Nostrand Avenue, Brooklyn) at 9 p.m. The composer and trombonist Craig Harris' Tailgators Tails will be performing for two shows at 9 p.m. and 10:30 p.m.
At 86 years old, Harrison is the promotions consultant for Jazzmobile's summer concerts. When Dr. Billy Taylor co-founded Jazzmobile in 1965, at the peak of the Black Power movement, he hired Harrison to coordinate all the organization's concert promotions and special events.