Jazz Notes: Jazz Museum, Art & Origins, Harrison & Eliot Jazz Heroes, P's Place
Ron Scott | 4/18/2019, 2:01 p.m.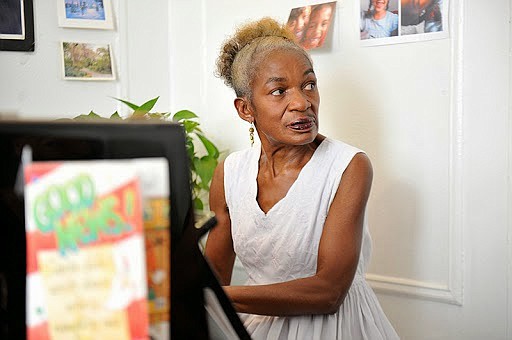 Prior to this position, in 1961, Harrison started a fan club for alto saxophonist Jackie McLean, holding "listening parties" with McLean-only recordings. He decided to push McLean in nontraditional jazz settings where a cabaret card was not needed. To reciprocate McLean connected Harrison with Slug's (the storied jazz club in the East Village), where he served as music promoter from 1965-1972.
Promoting concerts for Lee Morgan in Staten Island and the Bronx led to Ms. Management (co-run by Maxine Gordon and Hattie Gossett) hiring Harrison as promoter of record for Boomer's and Sweet Basil's jazz clubs from 1976 to 1981.
In 1979 Harrison founded and published Spotlight News. The paper started with 12 pages and blossomed to 144 when he closed it in 1982, to join the musicians Barry Harris and Larry Ridley in establishing the Jazz Cultural Theatre, where he labored until 1987.
He has always been a rather low-key gentleman, with a big smile, good sense of humor and quick wit. He counts such noted musicians as Jimmy Heath, Rene McLean, Craig Harris, Gary Bartz and Charles Tolliver as close friends. While he hasn't spent time promoting himself, Jazz Hero Jim Harrison is widely known as a living jazz legend.
Tickets are $20 with advance reservation call 718-398-1766.
On April 21 Marjorie Eliot's Jazz Hero award presentation will take place at her esteemed historical landmark residence 555 Edgecombe Avenue, apt. 3A, 3:30 p.m.-6:30 p.m.

Loyal fans have been coming to Eliot's Jazz Parlor for 20 years, and some have raised a younger generation of attendees. They come during the summer's scorching heat, rain and snowstorms. The Jazz Parlor has become so significant tourists from Belgium, London, Paris, Australia and Japan all come together mixing with local Harlem jazz enthusiasts.
Eliot's Jazz Parlor is reminiscent of those days when clubs lined the swinging streets of Harlem, when rent parties were all the rage and jazz musicians playing downtown at the Three Deuces or Five Spot scurried uptown to jam in a Harlem flat 'til dawn. She perseveres each week in finding ways to pay the musicians. Each Sunday, she vows, is a paid gig, not charity.
The donations help pay the musicians and keep the operation afloat. "The audience every week is a big surprise to me," claims Eliot. "They embrace the idea of this parlor jazz. They make it happen, and it's just miraculous." As a member of the Jazz Journalists Association this writer will present both awards.
After a long winter that continues to linger P's Place (28 Watkins Place in New Rochelle) returns with the young trumpeter Bruce Harris April 28, 2019. The concert begins at 3 p.m.-5 p.m.
Harris, born and raised in the Bronx, has been featured in two Broadway shows, "After Midnight" (2013) and "Shuffle Along" (2016), performing with the likes of Fantasia Barrino, Patti Labelle, KD Lang, Tony Braxton and Audra McDonald. Harris has compiled an eclectic list of collaborations with such artists as Lady Gaga, Rihanna, Steve Martin, Harry Connick Jr., and hip-hop artist DJ Premiere.
Donations are $15 at the door, and children are free.  Refreshments will be served, and you may bring your own bottle if you wish.
For further information and reservations call Pauline at 914-235-6398.