It's Not Over: Court sentences Lewis to life with no parole for Vetrano's death
STEPHON JOHNSON Amsterdam News Staff and NAYABA ARINDE Amsterdam News Editor | 4/25/2019, midnight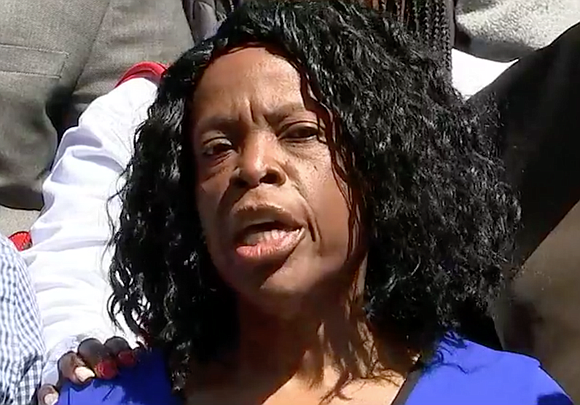 "I'm innocent," said Chanel Lewis to those in the courtroom. "I'm sorry for the family's loss, but I didn't do this."
To hear the prosecution tell it, Lewis' plea doesn't matter now as he was sentenced to life in prison without the possibility of parole for the rape and murder of Karina Vetrano.
"Chanel Lewis is innocent," declared New York State Assemblyman Charles Barron. "He is the victim of a racist judge, a flawed prosecution and persecution, and a New York City police department blaming a Black man—any Black man…for this heinous crime. The record will show that initially they were looking for a white man."
He continued, "This case must be overturned on appeal. It is not over."
Despite being found guilty, Lewis' sentencing was set for last week but was postponed amid allegations of jury misconduct. Juror Christopher Gooley said that he was intimidated into ruling Lewis guilty, but Judge Michael Aloise moved forward with the sentencing on Tuesday. Lewis was found guilty on 16 counts after five hours of jury deliberation.
A previous trial against Lewis ended in a mistrial.
The Legal Aid Society, who represented Lewis in the trial, sent a statement labeling the judgement an injustice and vowed to continue to fight for their client.
"While there is no denying that Karina Vetrano's death is tragic and that her family and friends suffered a great loss, every aspect of this case—from the police investigation to jury deliberations—was propelled by a desire to convict at all costs," read their statement. "This was done without any concern for Mr. Lewis's constitutional rights to due process and a fair trial."
Veta Lewis said that she spoke to her son the previous night, and said he was "hanging in there. He just says, 'Mummy, I'm alright.' He knows I worry, so he tries to keep my spirits up. That's the kind of son I have.
"I feel that we have a great chance to get an automatic appeal, because in the court house the judge denied every motion from the defense. He favored the prosecution. He was biased. He's a racist, and he did not give my son a fair trial.
"My heart goes out to the Vetrano family, but the judge sentenced an innocent man to life."
On Aug. 2, 2016, 22-year-old Lewis allegedly sexually assaulted and strangled Vetrano as she jogged near her Howard Beach home. Hours after the assault, Phil Vetrano, Karina's father, found her body in Spring Creek Park with her teeth broken.
The ensuing months brought no progress to the investigation until NYPD Lt. and Howard Beach resident John Russo testified in court that he spotted a young Black man in the neighborhood two months before the murder, tailed him for suspicious activity and called 911, which led to a stop-and-frisk. Lewis, an East New York resident, told the officers he was looking for a place to eat and was driven to a McDonald's in the Rockaways.
A few days before Lewis' conviction Legal Aid Society representatives received an anonymous letter accusing the NYPD of conducting a "racialized" search after DNA collected at the crime scene showed it belonged to a Black male. The Chief of Detectives at the time, Robert Boyce, ordered the DNA of all Black men arrested in Queens and Brooklyn and the swabbing of anyone who had been arrested in Howard Beach.