Art, culture and sun: an off-peak season Miami getaway
Tracy E. Hopkins | 8/8/2019, 12:23 p.m.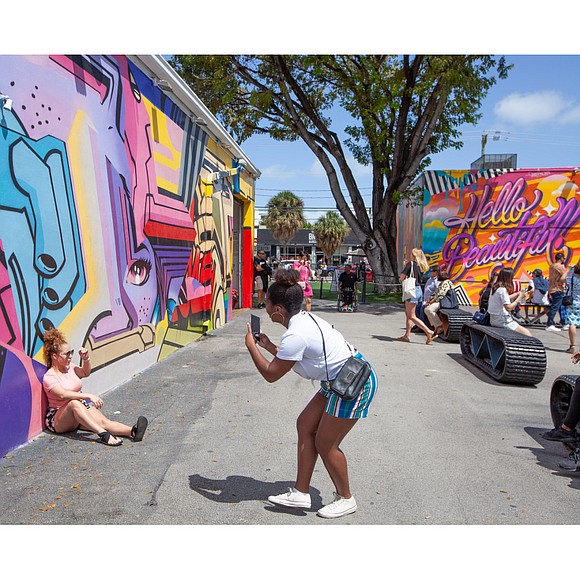 With hot and humid temps soaring into the 90s during the summer months, May through September is considered off-peak season. But if you can stand the heat and intermittent rain showers, a low season visit means you will encounter less crowds and save on hotels.
So pack your swimsuit, sandals and sunscreen and get ready to flaunt your beach bod while sipping frosé by the pool. And beyond South Beach, let us be your guide to Miami art, food and culture in Wynwood, Little Havana, Little Haiti and more.
Where to see and appreciate art
With an ever-changing rotation of graffiti art murals, Miami's revitalized Wynwood neighborhood has been re-imagined as an outdoor urban art gallery. Start your exploration at Wynwood Walls (2520 NW 2nd Avenue, http://www.thewynwoodwalls.com) to see the works of renowned graffiti artists like Futura, Swoon, Vhils and Shepard Fairey, then pick up a brochure to do a self-guided tour of the avant garde area's other provocative murals. Since our last visit in 2016, the area is even trendier—with more Instagrammable, colorful and creative street art, and an abundance of cafes, boutiques and selfie-snapping visitors pouring out of car ride shares.
Located in North Miami far removed from the spring break vibe of South Beach, The Museum of Contemporary Art (770 NE 125th Street, https://mocanomi.org) is dedicated to making contemporary art accessible to diverse audiences—especially underserved populations—through the collection, preservation and exhibition of the best of contemporary art and its art historical influences. On display through Aug. 11, "PÒTOPRENS: The Urban Artists of Port-au-Prince," a large-scale exhibition of contemporary Haitian art that brings together over 20 artists working in the Haitian capital. The museum is closed on Mondays, and the last Friday of every month, from 7 p.m. to 10 p.m. the museum is open by pay what you wish during Jazz@MOCA. General admission is $10 and $3 for students and seniors.
Pride Month may be over, but in honor of the 50th anniversary year of the Stonewall Uprisings, Miami will be one of only three cities in the U.S. to host "Art after Stonewall, 1969 ─ 1989." Showcased at the Frost Art Museum FIU (10975 SW 17th Street, https://frost.fiu.edu) the major exhibition of more than 200 works—including photos, paintings, sculpture, film clips, video, music and performance pieces—opens on Sept. 14, and will encompass the entire second floor of the museum, including the Grand Galleries. The museum is part of Florida International University, home to one of the country's most diverse student populations.
Where to shop
Collins Avenue and Lincoln Road Mall in South Beach are where you find trendy boutiques, souvenir shops and fast fashion staples like H&M, Zara, Rainbow Shops and Forever 21. For an under the radar retail gem, head to Little Haiti to pick up genuine Haitian arts and crafts, Afro-Caribbean fashions and accessories, natural beauty products and produce at the 9,000 square foot Caribbean Marketplace (5925 NE 2nd Aveune, http://littlehaiticulturalcenter.com/?venue=caribbean-marketplace).
Where to eat, drink and be merry
Along the Calle Ocho (SW 8th Street) main drag, "Havana, ooh-na-na," floats on the airwaves in a local bakery serving delectable guava pastries. Men studiously play dominoes in the famed Domino Park. An Afro-Cuban man rolls cigars in a tobacco scent-filled cigar shop. A salsa band plays while patrons shimmy and sip rum cocktails. This is Miami's Little Havana, an area so authentic you'll feel like you've been transported to the Cuban capital.