Beloved author Toni Morrison, dead at 88
Herb Boyd | 8/8/2019, 2:50 p.m.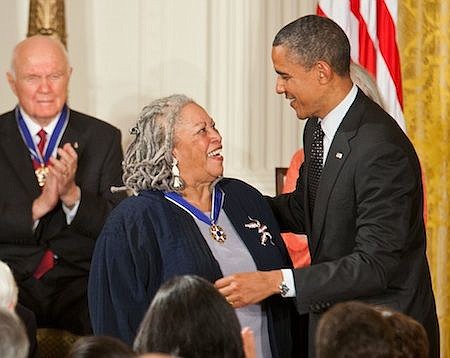 "We die," Toni Morrison said at the conclusion of her Nobel Prize address in 1993. "That may be the meaning of life. But we do language. That may be the measure of our lives."
Morrison not only did language, she gave it her own special embellishments, an eloquence that elevated the human condition as she probed the pain and denial experienced by Black Americans. The measure of her life is in some way denoted by the number of books and awards she amassed.
Morrison, following a short illness, died Monday at a hospital in New York City. She was 88.
Born Chloe Ardella Wofford in Lorain, Ohio on Feb. 18, 1931, her early years were visited by trauma and despair as she witnessed her home being burned down when she was about two. Only a strong family, invested with resilience kept them afloat and determined to make something of their lives.
It was her parents, too, who instilled a love of literature, oral history and folktales that Morrison would later mine in her novels and other publications. She often cited Jane Austen and Leo Tolstoy as among her favorite authors as she came of age. At the age of 12, Morrison became a Catholic and took the baptismal name after St. Anthony, from which her nickname Toni was derived.
As a student at Lorain High School, Morrison was a top debater and also a member of the drama club. She was 18 when she enrolled at Howard University and graduated in 1953 with a B.A degree in English. Later she earned her Master of Arts degree from Cornell University where her thesis was "Virginia Woolf's and William Faulkner's Treatment of the Alienated." Her teaching experience began at Texas Southern University in Houston. After two years at this college she taught for seven years at Howard University. It was here that she met the Jamaican architect Harold Morrison and they married in 1958. In 1964, she was pregnant with her second son, Slade, when the couple divorced. (Slade died of pancreatic cancer in 2010 at 46. Her oldest son, Harold Jr., is an architect.) The end of her marriage was the beginning of a literary journey in publishing as an editor for the textbook division of Random House in Syracuse, N.Y. Two years later, in 1967, while still at Random House, she became their first Black woman senior editor in the fiction department. Soon, Morrison was a resourceful conduit in facilitating the flow of such iconic writers as Chinua Achebe, Wole Soyinka and Henry Dumas. "He was a genius, an absolute genius," Morrison wrote of Dumas who was killed by transit cops in New York City in 1968. But numerous others came under her influence and editorial largesse, including Toni Cade Bambara, Angela Davis, Gayle Jones, and the noted South African playwright, Athol Fugard.
Even as Morrison shepherded other authors into the mainstream, she began her own writing career, encouraged by an informal group of poets and writers at Howard University. During these meetings she shared her ideas about a Black girl who wanted blue eyes. That short story evolved into her first novel "The Bluest Eye" (1970). Five years later, her second novel "Sula" was nominated for the National Book Award, and thus began the recognition that would ultimately earn her international acclaim. Eventually, the accumulation of awards would equal the number of books she published.