Beloved author Toni Morrison, dead at 88
Herb Boyd | 8/8/2019, 2:50 p.m.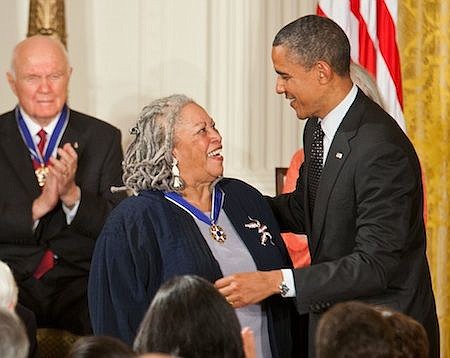 Morrison soared onto the best-seller list with "Song of Solomon" (1977) which was a Book of the Month Club selection, the first to be chosen by an African-American author since Richard Wright's "Native Son" in 1940.
After the publication of "Tar Baby" in 1981, Morrison resumed her teaching career with stints at the State University of New York and Rutgers University. In 1984 she was appointed to an Albert Schweitzer chair at the University of Albany, SUNY. Two years later her first play "Dreaming Emmett," based on the murder of Emmett Till, was performed at the SUNY campus where she was teaching.
And then came "Beloved" in 1987, and Morrison's literary ascendance crested. The book was based on a true story about a woman, Margaret Garner, an escaped slave pursued by bounty hunters who chose to kill her daughter but was captured before she could kill herself. She had learned of Garner's travails while completing her nonfiction collection of miscellany "The Black Book." Praise for the book culminated in her receiving the Pulitzer Prize for fiction and several other citations.
In 1998, the book became a film, starring Danny Glover and Oprah Winfrey, who was also one of the producers. It was less a success on screen, and received only one Academy Award nomination in costume design.
Into the 1990s, Morrison continued her prolific production with "Jazz" in 1992 (the same year a fire destroyed her home and manuscripts), and then she topped off her remarkable mastery of language as a recipient of the Nobel Prize in Literature 1993. At the core of the acceptance speech for the Prize she spoke of the power of storytelling, and then recounted to the audience a story about an old blind Black woman who asked if there was any context to their lives. She advised the young people to "Make up a story."
Making up stories was the essence of Morrison's glorious journey among us and as the writer Ted Wilson said, "We will miss her but we have her books." He also insisted that her beloved fans check out the documentary "Toni Morrison: The Pieces I Am," which was recently screened at the IFC. "It captures her in all her majesty," Wilson added.