He named his movement 'Revolution Now' and they jailed him
(GIN) , Nayaba Arinde , Chinedu Onyemaobi | 8/8/2019, 1:49 p.m.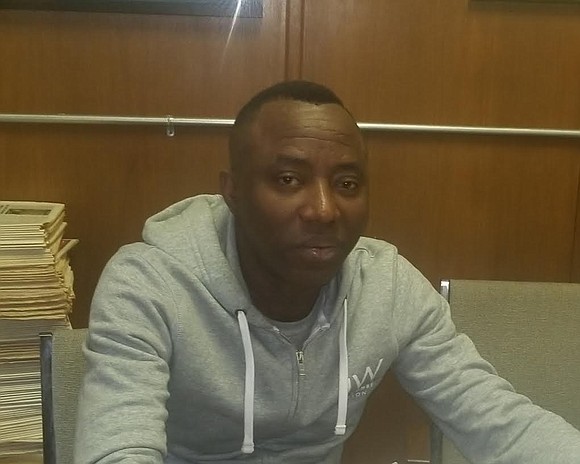 The Nigerian political sphere is in the mainstream again after political activist/leader of the African Action Congress, Omoyele Sowore, has been arrested and jailed following claims by Nigerian security agents that he was a threat to democracy and has committed treason. 
During the Nigerian presidential race, Sowore became a surprise popular candidate as he garnered much support early from the Nigerian public. Sowore took a strong stance on government corruption, Nigeria's wealth disparity and poverty situation and the country's inability to turn its oil resource into paying jobs for its citizens.
Sowore, activist, founder of the anti-corruption news service "Sahara Reporters," was not surprised when the Nigerian security service, the DSS, forcibly entered his house early Saturday morning and arrested him. His crime? Organizing a protest against bad governance in Nigeria.
The DSS arrived Aug. 3 with four trucks, seizing his phones and other electronic gadgets.
Sowore launched his Revolution Now movement in part, he said, because recent elections that returned President Mohammadu Buhari to power were not credible.
But the calls for revolution were unlawful, according to the security officers.
"He crossed the line, he threatened public safety," said a government spokesman. "Nothing will happen, there won't be any revolution. The government, which has been elected democratically, will be in place."
The arrest could interrupt plans for nationwide anti-government protests scheduled for this week.
In a recent meeting with supporters, Sowore declared: "This series of marches and rallies will continue until we have the Nigeria of our dreams." Currently, he said, "there's no respect for our dignity as a people. For you to get back your dignity, do what they're doing in Hong Kong, in Algeria, in Tunisia and in Puerto Rico.
"Shut down this unworkable system… The revolution is now."
Among Sowore's many friends is Nobel laureate Wole Soyinka who spoke out against the arrest in a strongly worded statement.
"Beyond the word 'revolution' … nothing that Sowore has uttered, written, or advocated suggests that he is embarking on, or urging the public to engage in a forceful overthrow of the government," the writer said.
"His arrest is a travesty and violation of the fundamental rights of citizens to congregate and make public their concerns."
Nigeria's Premium Times newspaper editorialized: "Speaking out is becoming more dangerous in Nigeria as curbs on free speech and repercussions for taking stances opposed to the government of the day are on the rise.
"Without a contest of ideas fueled by dissent, Nigeria will grow more ignorant, timid and ultimately, impoverished."
 The arrest comes after President Buhari has been under major scrutiny from many Nigerians on what some say is his inability to bring opportunities, a lackluster view on education, and his own failing health which he seems to ignore. The Buhari administration is also accused of blatantly violating people's humanitarian rights, evidenced by the massacre of innocent Nigerians by SARS officers in the northern and southern region. 
Sowore, on the contrary, has been the catalyst of the revolutionary change; he believes Nigeria needs a radical change. He's called out political corruption, the wealth gap between the very rich and the poor, the broken health care system, incredible damages to the nation's infrastructure, and the inability for newly graduated college students to find employment.