He named his movement 'Revolution Now' and they jailed him
(GIN) , Nayaba Arinde , Chinedu Onyemaobi | 8/8/2019, 1:49 p.m.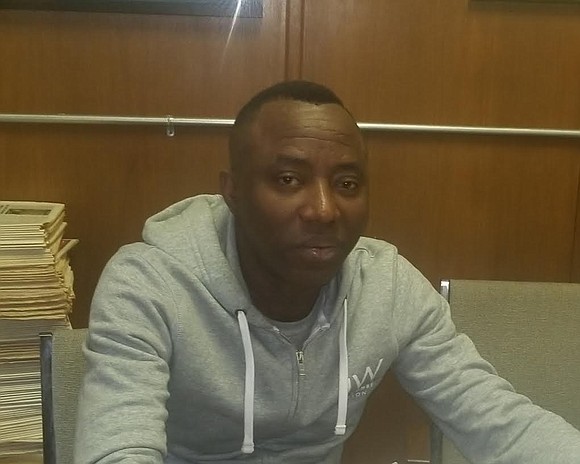 "We don't want war, we want a very clean, quick, succinct revolutionary process—surgical. That we put an end to the shenanigans of government that we put an end to oppression, the corruption of government," said Sowore in a video interview in early July.  
Sowore was born in Ilaje, Ondo State, in southwest Nigeria. At the University of Lagos the student activist studied geography and regional planning; moving to New York he earned a master's degree in public administration from Columbia University. There after the married father taught Modern African History at the City University of New York and Post-Colonial African History at the New York School of the Art. In 2006 he created the investigative media outlet Sahara Reporters and launched it in a midtown loft in New York City. In 2018 he formed the AAC party and ran for president of Nigeria.
His arrest and detainment has brought the attention of Nigerians from all over the globe. While the Nigerian consulate in Manhattan had not responded to the Amsterdam News' request for comment by press time, Monday, Aug. 5, protesters stood outside the United Nations building on 1st Avenue, citing their anger at Sowore's imprisonment.
"We are honestly sick and tired of Nigeria's inability to find leaders who aren't money hungry and are after themselves," said Dimeji Ayanwale of Brooklyn. "Men, women, innocent children are dying everyday. No food, no job. How can we call ourselves one of the wealthiest countries and our people are suffering everyday? Something needs to change."
Meanwhile, income inequality is hitting a record in Nigeria. About 90 million people—roughly half Nigeria's population—live in extreme poverty, according to estimates from the World Data Lab's Poverty Clock while Nigeria's richest man could spend $1 million a day and not run out of money for 46 years, says the global charity Oxfam. Nigeria has four billionaires ranked in Forbes top 2000 billionaires in the world.
"For a better Nigeria, the leaders must first understand they are the cause of most if not all the problems facing Nigeria," said Osaretin Ighile, a visual artist, from Brooklyn. "I know one day Nigeria can be a country of prosperity, freedom, people of goodwill. If we want that, it starts now."
As of now, no updates have been given on the timetable of the release of Sowore or even when he'll be arraigned in court. 
Updates on Sowore's situation can be found on sowore2019.org, and on Twitter at #FreeSoworeNow.