Medical trailblazer Dr. Edith Irby Jones
Herb Boyd | 8/8/2019, 3:36 p.m.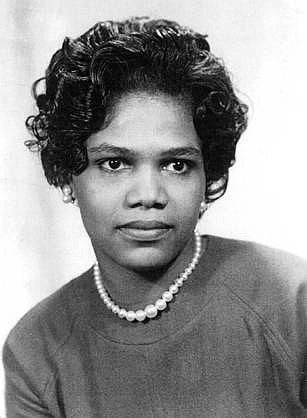 When her older sister, Juanita, died during a typhoid epidemic in Arkansas in the 1930s, Edith Irby Jones set her mind on becoming a doctor. She realized that her sister had died because she did not receive the proper medical care—in the impoverished section of the state where they lived only those able to pay could afford a doctor.

One cause of her family's poverty was due to the absence of a father who died in a riding accident when Edith was eight. It was at this same age that she began to earn money to support the family after her mother, a domestic worker, broke a vein in her leg and was unable to work. Among her jobs was caring for a doctor's young child, and this contact was additional inspiration to one day be a doctor.
By this time she had recovered from a severe bout with rheumatic fever that incapacitated her for over a year, making it difficult for her to walk and keeping her out of school. The disability only increased her desire for the medical profession.
In 1948, at 21, she gained national attention as the first Black student to be admitted to the University of Arkansas' medical school. Then Gov. Ben Laney opposed her admittance claiming her acceptance denied a more qualified white student, even though she placed 28th among 230 applicants on the Association of American Medical College exam.
Entrance to the college did not mean the surcease of racism and bigotry. Relentlessly, Edith fought against discrimination and Jim Crow laws, many of which invaded the campus where she was not allowed to dine with classmates or to use the same restroom. Out of the need to gain support for her battles she gained the friendship of attorney Thurgood Marshall, then a lawyer for the NAACP. Soon she was a soldier in the burgeoning Civil Rights Movement with Dr. King at the helm.
Her political and social activism did not impede her progress as a physician, and she often combined her medical practice—even at its embryonic phase—with her concern with ending segregation. Dr. Joycelyn Elders, a former U.S. surgeon general, said it was a speech by Edith that inspired her to become a doctor. In 1959, Edith went to Houston with an aim toward changing her focus on pediatrics to internal medicine. Ultimately, she was only the second Black female doctor in Houston. Three years later she hung her shingle in the city's Third Ward district where she conducted house calls and operated a van that picked up patients. Her patients, many of them indigent, often paid her with fresh vegetables, eggs and other staples when they didn't have the money.
In 1962, she joined the clinical faculty at Baylor College of Medicine and was on the medical staff at Riverside. Later she was the first African-American member on staff at Hermann and Methodist hospitals, although she wasn't admitted at St. Joseph Hospital because it did not have enough colored beds for her to tend and the rules and regulations did not allow her to care for non-Black patients.