Charge 'em out: Trump administration looks to make immigrant life harder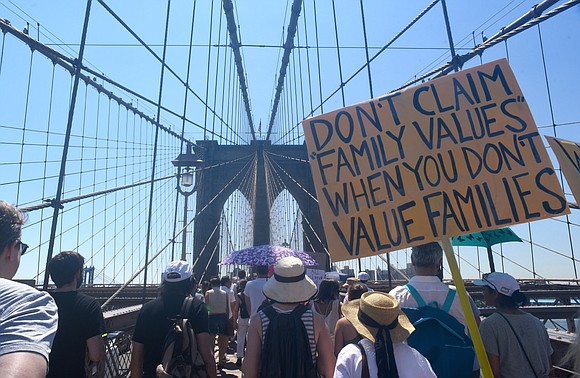 By STEPHON JOHNSON
Amsterdam News Staff
This week, United States Citizenship and Immigration Services Acting Director Ken Cuccinelli reworded Emma Lazarus' famous poem to CNN's Erin Burnett.
"Give me your tired and your poor who can stand on their own two feet, and who will not become a public charge," said Cuccinelli. When Burnett pushed back and reminded him that the words "wretched," "poor" and "refuse" were also in the poem, Cuccinelli said that it was "referring back to people coming from Europe."
Given President Donald Trump and his administration's new policy, they're putting to practice the re-wording of Lazarus' poem.
Months in the making, the Trump administration rolled out a new regulation expanding the meaning of the term "public charge," which makes it more difficult for certain low-income immigrants to obtain temporary visas or permanent residence. The new rules, according to an 800-page government document, would make it easier to reject green cards for people who use public assistance including food stamps, Medicaid and government-subsidized housing.
The change could affect any
potential immigrant without a college degree or with a low credit score, among many other
constraints.
"Today, USCIS, the agency I head as part of the Department of Homeland Security, has issued a rule that encourages and ensures self-reliance and self-sufficiency for those seeking to come to, or to stay in, the United States," said Cuccinelli to reporters on Aug. 12. "It will also help promote immigrant success in the United States as they seek opportunity here."
Cuccinelli said new arrivals should demonstrate the type of self-reliance and self-sufficiency that's a "core principle" of America.
"In the case of my own family, my Italian grandfather played this role, sponsoring two of his cousins, Mario and Silvio, to come to America," said Cuccinelli. "Once they arrived, my grandfather wanted to make sure his cousins spoke English—certainly well enough to work—and listed my father in that effort, as well, to make sure they could speak English well enough to work. And they did."
The rule changes have drawn widespread condemnation from elected officials, labor leaders, nonprofit leaders and advocacy
organizations.
"President Trump's new public charge rule is yet one more example of his administration turning its back on people fighting to make a better life for them and their families," stated New York Attorney General Letitia James. "Under this rule, children will go hungry; families will go without medical care. I am committed to defending all of New York's communities, which is why I intend to sue the Trump administration over this egregious rule."
New York State Assembly Member Michael Blake added that Trump is killing the idea of an American dream as the country's known it.
"The path to legal status and access to public assistance should not be dictated by the amount of money in your pockets or your level of education," stated Blake. "Families come to America seeking opportunity. The dream of a better tomorrow is exactly what my parents were in search of when they came to the Bronx from Jamaica, which is the same for millions of immigrants coming to our shores. At her best, America is a land that welcomes those yearning for the best for the future of