Colombia's Zulia Mena, imprisoned and in need of support
KAREN JUANITA CARRILLO | 8/15/2019, 11:44 a.m.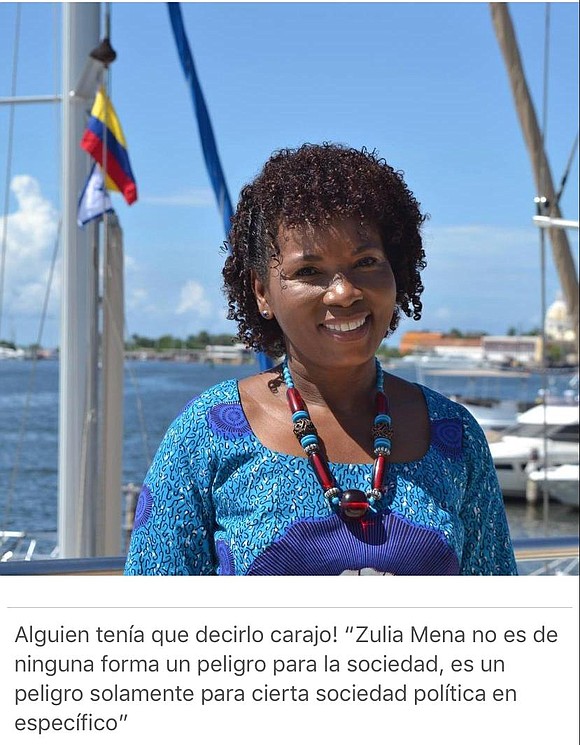 One of Colombia's most prominent Afro Colombian politicians has been languishing since February 12, 2019 in a prison cell, while fighting a series of criminal charges.
Zulia María Mena García is being held in the Anayancy prison in her native state of Chocó. She is accused of taking advantage of cost overruns while allotting contracts for the construction of stadiums for Colombia's XX National Games.
While prosecutors are still putting a case together based on these charges, Mena has been ordered held in the Anayancy prison—a notoriously overpopulated and unsanitary detention center. In 2014, the news site Colombia Reports listed Anayancy as one of the nation's 10 worst prisons, "The Anayancy prison in Chocó …[has] a high risk of fire and short circuit because the wiring is exposed and in poor condition; the special treatment unit has only two unlit cells, and its occupants are only allowed to get sunlight for 15 minutes Monday through Thursday and one hour on Friday, limiting the chances of recovery."
In November 2018, a Quibdó municipal court judge had mandated that Zulia could remain in her home to prepare her defense to the charges made against her on the grounds that detaining her in prison was neither urgent nor necessary. But that decision was appealed by the Quibdó prosecutor who claimed that Zulia was a "danger to the community," and, since this past February, she has been in prison.
Claims that Zulia Mena is "dangerous" are being refuted in what is now an international effort to have her released from Anayancy and sent to her home.
Mena has been recognized throughout Colombia as a respected activist-turned politician. In 1994, Zulia was the first Colombian congressional representative specifically elected to protect the interests of Afro-Colombians; she served four years as the nation's first Afro-Colombian congresswoman. Prior to her election to Congress, Mena had been at the forefront of the struggle to pass the nation's Law 70, which mandates nationwide acknowledgement of the existence of Afro-Colombian communities and grants them the legal right to the land their ancestors have lived on for centuries.
While she served as mayor of Quibdó, Chocó, Mena instituted an administration that had ousted the traditional political machine; her government also featured a 'shadow cabinet' of national experts who helped advise them on day-to-day operations. At the end of her tenure she had helped Quibdó progress so far with infrastructure and aqueduct issues, that she was listed as one of the most successful mayors in the country.
Colombia's XX National Games took place in Chocó from November 6 through 21, 2015—while Zulia Mena was serving as mayor of Quibdó between 2012 and 2015. It was the first time in the 86-year history of the sports contest that it was held in the majority Black state of Chocó and it was one of many triumphs for Mena's mayoralty to have the national games in a state that had traditionally contributed so many famed athletes to the nation.
After serving as mayor and a congressional representative, Mena was most recently the Colombian vice minister of culture from March 2016 to August 2018. In each of these roles, she not only served her constituents but also made it her mission to promote Afro Colombian causes abroad. Mena has spoken with United States representatives of the Congressional Black Caucus and served on panels at the United Nations. In March of 2007, she informed then-U.S. President George Bush and then-Colombian President Álvaro Uribe that Afro Colombian communities were struggling to survive in militarized communities with little support from their own government. She reminded both presidents that at one time U.S. African Americans fought for the same right: to be seen and respected as valued members of their nation.