Colombia's Zulia Mena, imprisoned and in need of support
KAREN JUANITA CARRILLO | 8/15/2019, 11:44 a.m.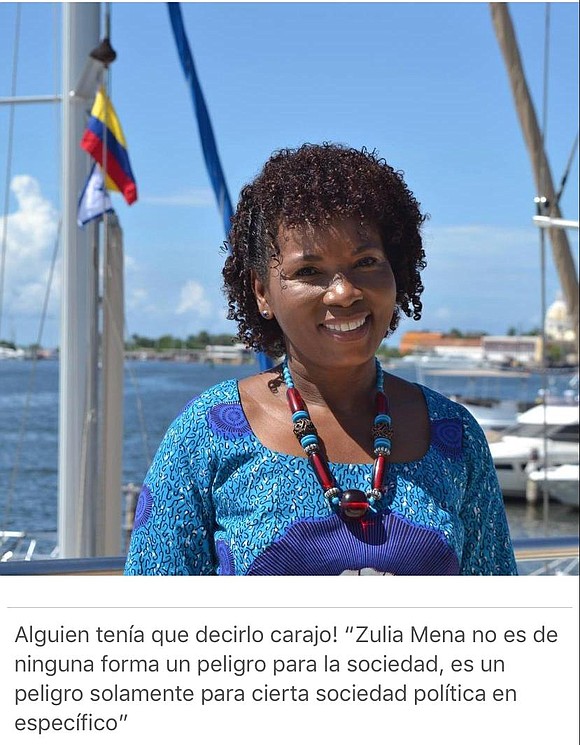 While being held in Anayanci, Zulia's health has deteriorated rapidly. "Transfers to the local hospital where they have given her medical help have been constant," Zulia's husband, Sergio Mosquera, said. "After the prosecution filed the indictment against her, where they have supposedly already collected all the evidence, continuing to deprive her of liberty was unnecessary because there was no longer a risk of obstruction of justice. So we requested the change of address for her. That request was denied because of the insistence that the risk had not disappeared.
"Given the serious state of Zulia's health, which was certified by an internist doctor who states that her condition is incompatible with life in prison, we request the change of address," Mosquera said. "For those of you who know Zulia Mena's leadership trajectory, I call on your solidarity to not let her be judicially eliminated. While the trial process takes place, she can be at her home because the prison lacks the basic conditions to keep her healthy."
Licenia Salazar, director of the Cali, Colombia-based CEPSAFRO (Center for Political and Social Studies of the Afro-Colombian People), also complained about Zulia Mena's treatment in a August 11 blog post: "In the end, I realize that exercising public office in Colombia is a very high risk scenario; it is not enough to be honest, to be rigorous, to be a good administrator, because in the end you have to answer for the actions of those who are part of your administration, in the end it's a waste of time… you make a mistake and that single decision can destroy your whole life.
"We can only hope that justice works, that Zulia's health does not deteriorate and that her family and friends embrace her permanently, because women like Zulia are hard to find."