'Councilwoman' chronicles immigrant's dual life as hotel housekeeper, council member
NADINE MATTHEWS | 8/15/2019, 12:22 p.m.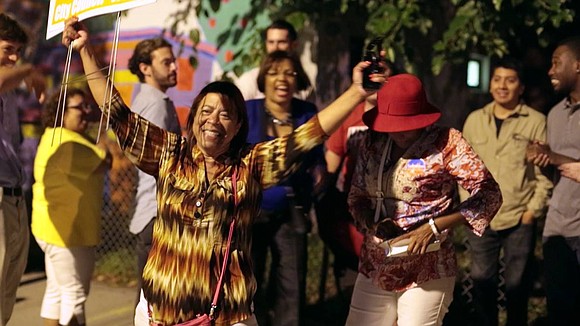 Special to the AmNews
When we meet Carmen Castillo in Margo Guernsey's "Councilwoman," she is already a councilwoman, a part-time gig for which she receives roughly $18,000 a year. Castillo looks right at the camera and tells us that on the way to becoming a councilwoman she almost lost her day job as a housekeeper at a hotel in Providence, Rhode Island. The irony isn't lost on the viewer that even the position of a city councilwoman, which puts full-time demands on her time, and which Castillo took on in large part to fight for a living wage, doesn't pay enough for her to live on.
Carmen Castillo's remarkable story is coming to public television during the week of Labor Day on America ReFramed, the award-winning documentary series from WORLD Channel and American Documentary, Inc. It premiers on WORLDchannel.org Tuesday, Sept. 3, at 8 p.m. ET (7 p.m. CT/ 9 p.m. PT).
A naturalized American of Dominican birth, Castillo came to America with her three children in 1994. She first drew public attention when she gave a candid interview to a local newspaper about harsh conditions and wage inequities faced by hotel housekeepers like herself. As "Councilwoman" reveals, on the day the article came out, Castillo's name, face, and unvarnished critique were splashed across every newspaper in the hotel's guest rooms. Her boss was none too pleased.
Castillo's friend from work called her before her shift started and told her she should stay home. Castillo didn't. She completed her shift that day under her boss' disapproving glare. Following that incident, she decided to run for City Council in 2011.
Publicly ridiculed for being a hotel housekeeper as she ran for the position, Castillo stayed the course because, "People who make beds at hotels also have brains and can make decisions." She went on to win that election. When we meet her in "Councilwoman," she is on the cusp of a re-election bid.
Told in cinema verité style, the viewer experiences what it's like to be a working-class immigrant in a small New England town. To accompany Castillo on her journey in "Councilwoman" is to understand that the people who do the hardest, dirtiest work are the first to have their taxes raised. It is to understand their ubiquitous sense of frustration. It is to understand they are who most have their voices—often tinged with the vestiges of their birth nations—ridiculed, shouted down or worse, completely unheard. To watch "Councilwoman" is to also understand the meaning of leadership, the few who are willing to bear all the slings and arrows in the hopes of improving the circumstances of their communities.
To see "Councilwoman" is to understand how small acknowledgements such as an informed opinion for a local newspaper article, can impact the life of not just one person, but a whole community.
Castillo's story is made more resonant by the simultaneous rise of figures such as Alexandria Ocasio-Cortez, Ayanna Pressley, Sharice Davids and Lauren Underwood. Women who decided that enough was enough and that the times demanded action, fear be damned. Women who decided it was time to break down the doors of the old boys club and stop allowing gender, race, age, or class stop them from entering the rarified world of politics.