Make room for rumba! The Cuban dance form is coming for Harlem Week!
NADINE MATTHEWS | 8/15/2019, 12:02 p.m.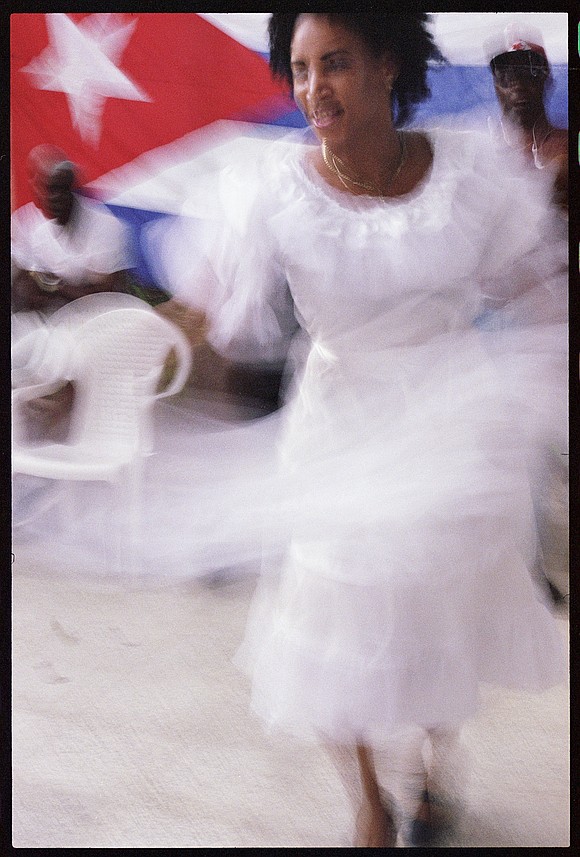 Special to the AmNews
"One of the things that kids in Cuba do," London-based artist Jessica Angel explains, "is that within the school system, they regularly have classes in museums. You'll get to a museum and find a bunch of sixth-graders having their math class, in an art exhibit. This means that the arts become part of their environment and part of their dialogue and relationship with the world."
Angel is a former filmmaker who left the industry because, she says, of "A lack of control and not much ownership over projects." She eventually, "Put down the movie camera and picked up a still camera and at about the same time, I started to dance. The two just happened in parallel."
"I also had another career track in learning and development," Angel informs the Amsterdam News. "I was interested in the process of learning. I'm really interested in how people learn; what they learn and what they don't learn in mainstream education. I'm interested in what they can learn in a different way, which is really useful for life. I think movement and embodiment, and learning to see differently, are the kind of skills that don't get covered by core curriculums."
It's this fascination with how children learn that in part led Angel to undertake Liquid Heat | La Rumba Llama, an international public art project that brings together photography, dance and education to celebrate Afro-Cuban rumba. It takes place at Harlem Hospital Mural Pavilion from Monday Aug. 5 to Friday Sept. 30 as part of Harlem Week.
The installation has two parts: an exhibition component and a learning component. According to promotional materials for the event, "There will be a series of vibrant, life-sized photographs that capture the energy and passion of rumba. The never seen before photographs will be accompanied by a custom-made soundtrack including a reading by Alden Knight of one of Afro-Cuban poet Nicolás Guillén's poems set to rumba percussion."
Simultaneously, there will be a free rumba dance program for children taught by Cuban dancer and choreographer Luanda Pau and a traditional Cuban rumba performance and demonstration with Cuban musicians Melvis Santa and her group Ashedí.
Though she expects the children to enjoy the musical and movement aspects of rumba, there is another dimension to the exercise. "The reasons that I chose rumba is because it's all about managing your own internal energy. How do you root yourself? How do you stay connected to yourself? To your spirit and to others? How do you stay present? You have to pay a lot of attention, and to maintain a lot of presence."
Dance in general, and genres like rumba in particular, for Angel, act as a counterbalance to the effects of rapidly changing dynamics of modern society. "Growing up in this world now is different. We didn't grow up with Instagram and selfies and having to look perfect and with what's going on politically," she states. "So there's something about really coming back to self with this dance. You can't dance it unless you come back to yourself."