NY Giants great running back Ron Johnson
Herb Boyd | 8/15/2019, 1 p.m.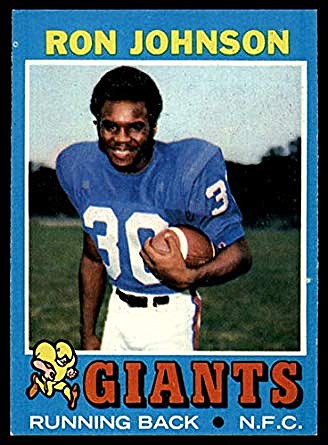 Northwestern High School in Detroit has produced a number of world class athletes, including baseball greats Willie Horton and Alex Johnson, and Olympic Gold medalist Henry Carr. Johnson's younger brother, Ron, was also a graduate of the school and went on to the University of Michigan and later to the NFL, his longest stint with the New York Giants.
We focus on Johnson because he died on Nov. 10, 2018, at 71, and his death was attributed to injuries he sustained on the gridiron.

The youngest of five children, Johnson was born on Oct. 17, 1947, in Detroit. His father, Arthur, owned a trucking company, and his mother, Willie Mae, was a homemaker. Like his older brother, Alex, Johnson starred in baseball and football at Northwestern.
In the fall of 1965, Johnson enrolled at the University of Michigan and for three years was a star running back under famed coach Bump Elliott. It was not until his junior year that he earned a starting position in the backfield, and quickly impressed with his speed and power, carrying the ball 210 times, gaining 982 yards, and averaging 4.7 yards per carry. After three games as a starter he broke Michigan and the Big Ten's single game rushing records with 210 yards rushing on 26 carries, averaging 10.4 per carry against Navy. He also exceeded more than 100 yards in games against Michigan State, Minnesota and Northwestern.
His feats and feet earned him the MVP of the Michigan Wolverines football team in 1967. The next year he was named captain of the team, the first African-American to be so honored. He continued to compile astonishing numbers with the pigskin under his arms. In 1968, during the last game of the year against Wisconsin, Johnson set an NCAA record by rushing for 347 yards on 31 carries. He also scored a Big Ten record five rushing touchdowns against Wisconsin. And that achievement remains unequaled by a Michigan running back.
Johnson eclipsed the career rushing yardages compiled by the legendary Tom Harmon at Michigan, topping him with 2.524 yards. He also broke Harmon's record for a single season rushing touchdowns with 19. Attempting to define Johnson's skills as a runner, coach Elliott said, "I just think it's instinct. He's a strong runner and has great instincts." Johnson summed up his ability as "finding the right hole" in the line.
He found the right hole so often that by the end of his senior year he was selected to the first team by Football Writers Association of America and Football News. Among the honors was the Big Ten Medal as the most outstanding scholar-athlete at the University of Michigan, and, of course, his teammates deemed him the most valuable player. In 1969, he graduated with bachelors and master's degrees in business. Later after his retirment from football, he worked as a financial analyst for Dean Witter, and then founded the Rackson Corporation, which is based in Totowa, N.J., and New York City and operates fast food outlets in several states.