St. John: A small island with a lot to offer
SHERYL NANCE-NASH | 8/15/2019, 6:44 p.m.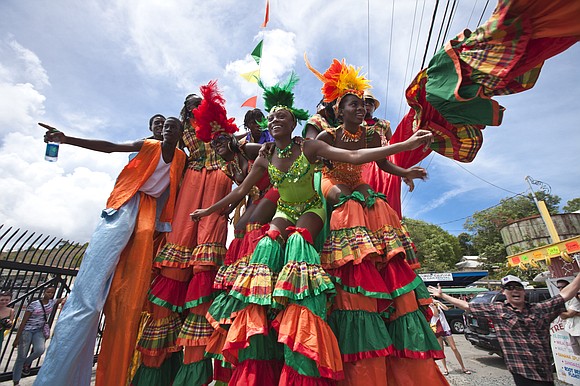 St. John is the smallest of the three islands that make up the U.S. Virgin Islands. St. Thomas is the capital and there's St. Croix, the largest of the trio. Though the population of St. John is about 4,100, don't dismiss this place as insignificant. Size doesn't matter. In fact, less is more in this charming corner of the world.
Much as someone might try to describe what St. John is like, it's one of those places that you have to see for yourself to understand the vibe and magic. Two-thirds of the island is a protected U.S. national park with 9,500 acres of greenery and an underwater reserve. That's not the only wow factor. A beach is a beach is a beach, unless you're talking about Cinnamon, Trunk or Maho Bays. Not only is the sand a fine white powder, the turquoise water is clear enough to see the tiny fish flittering about in the water or to see with surprise a stingray headed your way. No worries, he or she is likely more afraid of you than you are of them. But that's not to say you should try to make a new friend either. Get a look-see and get on with your water play. You don't want to accidentally step on one and stir their ire. And by the way, the beaches are free, with the exception of Trunk Bay, which is $5 for those 16 and older.
Water lovers will find abundant opportunities to snorkel, dive, paddleboard, kayak, parasail, or take one of the boat charters, be it a guided sea turtle tour, or a sail around St. John's coves and cays for snorkeling and swimming. While you're out there, stop for lunch at the recently opened Lime Out VI, a floating taco and cocktail bar. Stay on your boat with your lunch if you like, the waitress will come to take your order. Max out the experience with a swim up to the bar to eat and drink while sitting on seats connected to the bar from under the sea. Bet you haven't done that before #bragging rights.
If the sea isn't your fascination, no worries; there are more than 20 trails for hiking throughout St. John, mountain biking and horseback riding. There's culture and history too. Visit the ruins at the Annaberg Sugar Plantation. You might find yourself a bit teary as you may feel the spirit of the ancestors who toiled there as slaves. The Cinnamon Bay Heritage Museum and Archeology Lab is housed in one of the oldest buildings in St. John. Get a glimpse of life in St. John from prehistoric times to today.
For sure, any time is a good time to visit St. John. There are events like Love City Live in January that celebrates reggae music, the Arts Festival in February with quadrille dancing, steel pan, gospel and more. But there's nothing like the St. John Festival, its carnival celebration, while month-long, it climaxes July 1-4. The festival village is the heartbeat of the action—music, music and more music—calypso and beyond, local foods, all the booze you can drink, vendors, parade, and on the Fourth of July a fireworks show that gives Macy's a run for its fireworks king crown. A bonus is that on July 3 is a special day for the U.S. Virgin Islands as in 1848 was the day African slavery was abolished on the islands. In St. John the celebration includes historical talks, cultural demonstrations, including a re-enactment of the abolition of slavery in 1848 and quadrille dance performances and of course plenty of traditional foods.