Another Black Man Targeted, Tasered and Beaten by Police
By Jeffrey L. Boney, NNPA Newswire Contributor | 8/20/2019, 10:32 a.m.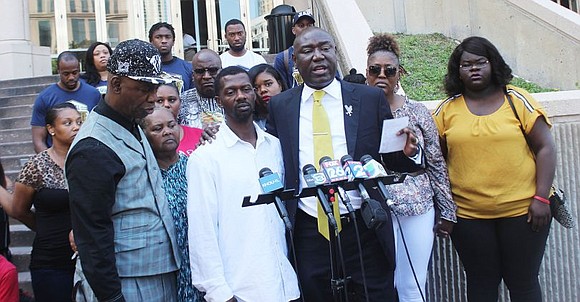 Police brutality…Will it ever end?
All eyes across the nation have been on the city of Baytown, Texas, ever since an unarmed Black woman, 44-year-old Pamela Turner, was shot to death on video by Baytown Police Officer Juan Delacruz back on May 13, outside of her apartment complex on Garth Rd. in Baytown.
Since the incident, no charges have been filed against the officer, although the killing was squarely caught on video. Nothing has been done about the police killing of Turner since that time, except that Officer Delacruz returned back to work after being on paid leave for three days.
Fast forward a few months later, and another high-profiled incident was also caught on camera, not too far from where Pamela Turner was fatally shot at close range by Officer Delacruz.
Slightly before midnight on the evening of July 6th, an unarmed Black man, Kedrick Crawford, 45, is seen on camera being unsuspectingly and undeservedly assaulted by Baytown Police officers that left him having to be treated at Ben Taub Hospital for significant injuries to his face, chest, right eye, head and hands.
Crawford states that he pulled into a local H-E-B parking lot on Garth Rd. to put an address into his GPS navigation app to get directions on his cell phone. As he was parked, he states that Baytown Police officers pulled up and approached his vehicle. After being confronted and questioned by police after claims that he looked suspicious while sitting in his parked vehicle, Crawford says that he gave police permission to search his vehicle upon their request.
Crawford said he was not worried about giving police the consent to search his vehicle, because he was confident he had done nothing wrong.
In the video, released by the Baytown Police department and obtained from the dash cam video of one of the officers, you can hear Crawford tell the officer that he had insurance and whatever else they needed to verify his identity and legitimacy, to which the officer is heard on camera responding, "And what does that have to do with anything?"
After the officers' response, Crawford then asks the officer, "So when am I free to go?" to which the officer responds, "Whenever man!"
Crawford then asks a clarifying question to confirm that the officer told him that he was free to go whenever he wanted to, and as he continues to look on in confusion as to why he was stopped, five seconds later, the officer who told him he was free to go, comes up behind him and commands him to "put your hands behind your back."
Confused and afraid for his life, Crawford asks why he is being asked to put his hands behind his back and why he is being handcuffed, repeatedly asking the officer, "What did I do?"
The officer, seemingly hostile, sternly notifies Crawford not to resist and emphatically makes a threatening statement saying, "I will drop you!"
According to a statement released by the Baytown Police Department, officials described the encounter as justified, proclaiming that Crawford's "demeanor changes as he becomes increasingly nervous even though officers are being polite and cordial."