Jay-Z's partnership with the NFL surprises some, upsets others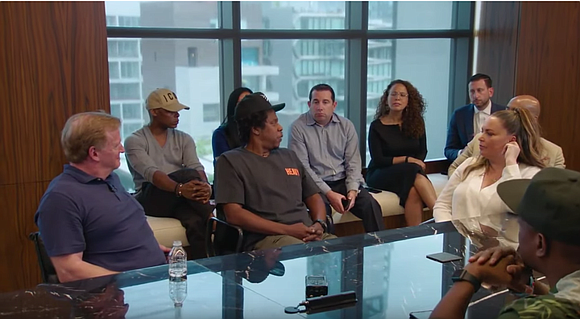 It was the brand management heard around the world.
Last week, Roc Nation announced a long-term partnership with the National Football League at the office of Live Music Entertainment Strategists. According to officials from both sides, the partnership begins this season, the NFL's 100th, as part of the organizations' goal of "strengthening community through music and the NFL's Inspire Change initiative."
"Roc Nation is one of the most globally influential and impactful organizations in entertainment," stated NFL Commissioner Roger Goodell. "The NFL and Roc Nation share a vision of inspiring meaningful social change across our country. We are thrilled to partner with Roc Nation and look
forward to making a difference in our communities together."
Roc Nation will also consult and collaborate on parts of the production, promotion, marketing, and communications for live music events involving the most popular sports league in the country. The deal also includes Jay-Z (real name Shawn Carter) eventually acquiring majority ownership of an NFL team.
While he didn't directly comment on the new deal, former quarterback Colin Kaepernick noted (on the same day as the deal's announcement) that it was the third anniversary of when he first protested during the Star-Spangled Banner before an NFL preseason game.
"Today marks the three year anniversary of the first time I protested systemic oppression," said Kaepernick on Twitter. "I continue to work and stand with the people in our fight for liberation, despite those who are trying to erase the movement! The movement has always lived with the people!"
Kaepernick hasn't played in the NFL since 2017 when he became a free agent. During the 2016 season, the quarterback became a lightning rod for controversy when he started kneeling during the national anthem before games to raise awareness of police brutality and racial injustice. Other players around the league joined in on the kneeling, but Kaepernick was singled out for allegedly disrespecting the flag and being unpatriotic.
In Oct. 2017, Kaepernick filed a grievance against the NFL accusing the league of blackballing him for his political expression. He settled with the league for an undisclosed sum.
Kaepernick's girlfriend, radio and television personality Nessa Diab, took to Instagram and said, "So really, how can Jay-Z and the NFL utter social justice in their partnership while keeping Colin unemployed because of his social justice work?"
Even Kaepernick's lawyer Mark Geragos joined the chorus when he told ABC News that Jay-Z's deal with the league was "cold-blooded" and said it "crosses the intellectual picket line."
"We forget that Colin's whole thing was to bring attention to social injustice," said Jay-Z during the news conference announcing the partnership. "In that case, this is a success. This is the next phase. There [are] two parts of protesting. You go outside and you protest, and then the company or the individual says, 'I hear you. What do we do next?'
"Everyone heard, we hear what you're saying, and everybody knows I agree with what you're saying," Jay-Z continued. "So what are we gonna do? You know what I'm saying? [Help] millions and millions of people, or we get stuck on Colin not having a job."