Jazzmobile, Charlie Parker Fest, Newport highlights
Ron Scott | 8/22/2019, 1:51 p.m.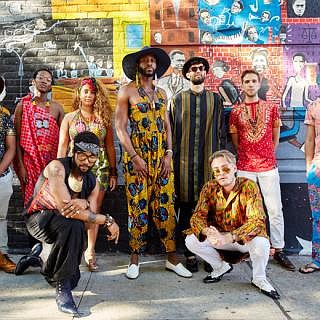 On Aug. 23 Jazzmobile at Marcus Garvey Park swings with Harlem 100: Mwenso and the Shakes, vocalist Brianna Thomas, South African vocalist Vuyo Sotashe and special guest saxophonist Fred Wesley (James Brown band), and drummer Winard Harper & Jeli Possewith a show 7 p.m.-9 p.m.
The alto saxophonist Charlie Parker died in 1955 at the age of 34. Now—64 years later—aspiring and established musicians are still attempting to figure out how the hell did he run those outrageous riffs and beautiful harmonies.
The Charlie Parker Jazz Festival in its 27th year pays tribute to the genius of "Bird" and his musical gift to the world. On Aug. 24 the festival hits in Harlem at Marcus Garvey Park (124th Street at Mt. Morris Park) and Aug. 25 in Tompkins Square Park (East 10th Street between Avenues A & B on Manhattan's lower eastside). Both concerts will run from at 3 p.m.-7 p.m.
The performers at Marcus Garvey Park will feature the all-out singer Dee Dee Bridgewater, who can swing from a ballad to a hardcore jump up and dance jazz standard; the tenor saxophonist Ravi Coltrane, who has developed his own style and sound outside of his masterful father John— Ravi carries on the tradition following his own path; the vocalist Quiana Lynell Reclamation: she will be joined by ladies of like-mind; tenor saxophonist Camille Thurman, who is currently the first woman to join the Jazz at Lincoln Center Orchestra; the Brooklynite and vibraphonist, who refuses to be categorized Nikara Warren and the harpist Brandee Younger, who becomes more stirring with each performance. When Lynell takes the stage, she guides the listeners on a journey where "jazz collides with soul."
The following day Tompkins Square Park will present the drummer for all seasons Carl Allen's Art Blakey Tribute; legendary saxophonist George Cole Trio (his saxophone solo on Maiden Voyage, 1965 still brings chills); the pianist, who turns every ballad into a starry-sky Fred Hersch; and the young saxophonist and Harlemite Lakecia Benjamin whose musicianship becomes more stimulating with each performance.
A heavenly shoutout to Jazzmobile's production coordinator and Charlie Parker Festival producer and stage manager Johnnie Garry. It was Garry's love for the music and Harlem that prompted him to suggest that the founders of the Festival (The Charlie Parker Foundation) come into Harlem, which just proves Garry is still the man.
The Newport Jazz Festival boasts two great qualities: thrilling music and Fort Adams, which is situated at the mouth of Newport Harbor with panoramic views that leave you speechless. The festival (Aug. 2-4) at the Fort featured four stages of staggering music. This year's artist-in-residence was the exceptional pianist/composer Herbie Hancock from the legendary Miles Davis Quintet (1965068) to his own "Maiden Voyage" album to his fusion hit "Head Hunters" and beyond.
The artistic director since 2017 has been the bassist, composer, big band leader Christian McBride, who has been shaking up the landscape with a variety of acts. This year it was somewhat ironic that the closing performer on the main stage was poet, activist, actor and rapper Common joined by pianist Kendrick Scott, vibraphonist Joel Ross, Harish Raghavan Matt Stevens, and Walter Smith III. The mission was accomplished that audience was filled with the 20-30 year crowd and jazz is always looking for that younger crowd, right.