Killer Cop Fired: 'Five years too late'
By STEPHON JOHNSON Amsterdam News Staff Additional reporting NAYABA ARINDE Amsterdam News Editor | 8/22/2019, 12:02 p.m.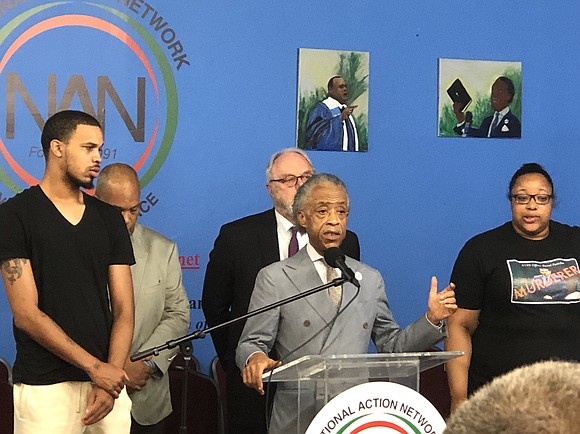 NYPD Police Commissioner James O'Neill tried his best to bury the lede, but the firing of Daniel Pantaleo rang bells around the five boroughs.
On Monday, August 19, the commish announced the firing of Pantaleo due to his role in the death of Eric Garner. Garner's death, after Pantaleo put him in a chokehold, became a rallying cry for those affected by police brutality. The words "I Can't Breathe" entered the country's collective lexicon.
"It is a decision that necessarily requires fairness and impartiality for Mr. Garner, who died following that encounter with police," said O'Neill while reading a statement to media members during a news conference. "It is also a decision that requires fairness and impartiality for Officer Pantaleo, who was sent by this department to assess a situation and take appropriate police action."
But that didn't mean that the commissioner didn't lay a little blame on the victim as well.
"Every time I watched the video, I say to myself, as probably all of you do, to Mr. Garner: 'Don't do it. Comply,'" said O'Neill. "To Officer Pantaleo: 'Don't do it.' I said that about the decisions made by both Officer Pantaleo and Mr. Garner."
National Action Network President Al Sharpton said the firing of Pantaleo for "an illegal process" was the right thing to do.
"Let us be real clear that though I agree with the decision of the commissioner to follow the recommendation of Judge Rosemarie Maldonado….that in the process, let's not convict Eric Garner of things that did not end up proven in the court of law," said Sharpton to reporters at NAN headquarters. "To say Eric Garner did [something that] has not been established is to desecrate the memory of a man who was the victim here. Let us also remember that there were other officers involved that ought to also be dealt with. There was the arrest report saying he had 10,000 cigarettes when he did not. What's going to happen to that officer? There were allegations that he was selling and there were eyewitnesses who said he was breaking up a fight."
Maldonado presided over the administrative trial of Pantaleo earlier this year. Delays and requests for breaks in testimony littered the proceedings. After a four-day delay during the trial, it resumed for about three hours before Pantaleo's legal representation requested a two-week break. They said that it would take that long for a medical examiner from Missouri to fly in to New York to testify. Before the trial began, Pantaleo requested days off because he had a pre-scheduled a vacation. Then, his lawyers said that they couldn't schedule witnesses on Monday.
New York City medical examiner Dr. Floriana Persechino had already declared that Garner died via chokehold and ruled it a homicide. But the judge still recommended that Pantaleo be dismissed from the NYPD.
Pantaleo now joins Sgt. Kizzy Adonis as the only officers involved in the incident who have seen any consequences for their actions. Adonis won't see a departmental trial and was docked 20 vacation days for failing to properly supervise Pantaleo in the arrest of Garner.