Killer Cop Fired: 'Five years too late'
By STEPHON JOHNSON Amsterdam News Staff Additional reporting NAYABA ARINDE Amsterdam News Editor | 8/22/2019, 12:02 p.m.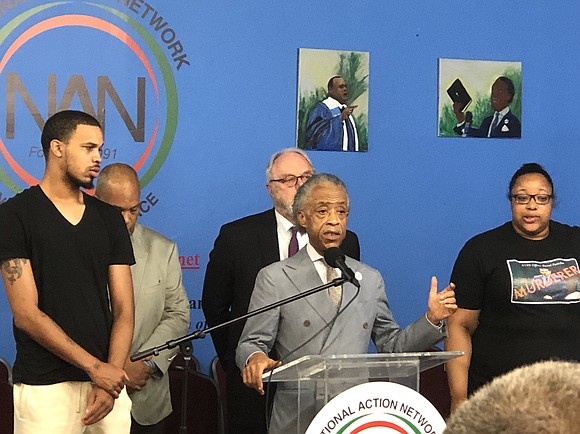 In a statement, Sharpton said the docking of Adonis' vacation days were also too late.
"The decision by the NYPD to dock Sgt. Kizzy Adonis twenty vacation days is too little too late. In fact, the loss of vacation days is akin to no penalty at all. If the penalty for not doing your job is that you can keep doing your job, it is an injustice to the family of Eric Garner and the residents of New York City," said Sharpton. "We want all of the officers involved in Eric's case to be brought to justice, including the NYPD Lt. Christopher Bannon who texted another officer that the incident with Eric Garner was 'not a big deal.' We will continue to press for justice on all avenues, including with congressional hearings in the fall as agreed to by Representative Jerry Nadler, chair of the House Judiciary Committee."
"Commissioner O'Neill I thank you for doing the right thing," said Emerald Snipes Garner, daughter of Eric Garner to reporters at NAN headquarters. "Regardless of however you came to your decision, you finally made a decision that should've been made five
years ago."
"We will be going to the congressional hearings," Emerald continued. "We will be trying to reopen the case. We will be going after the rest of the officers involved because it's not over."
On July 17, 2014, Pantaleo and other officers were captured on video attempting to arrest Garner for selling untaxed cigarettes in Staten Island's Tompkinsville neighborhood. A video, recorded by Ramsey Orta, showed Pantaleo using a chokehold, while Garner is audibly heard stating that he couldn't breathe.
Officer William Meems testified to Civilian Complaint Review Board prosecutor Suzanne O'Hare that he thought Garner was pretending to be unconscious when he collapsed. Officer Justin Damico said that he thought Garner was "playing possum" and said Garner became "irate" when he tried to deescalate the situation.
A Richmond County grand jury didn't indict Pantaleo for Garner's death. Organizations like the NAACP, the New York Civil Liberties Union and current New York State Public Attorney (then New York City Public Advocate) Letitia James believed that now former Staten Island District Attorney Daniel Donovan cherry-picked which grand jury information would be made public.
CCRB Chair Fred Davie said in statement that while the NYPD did the right thing, it shouldn't have taken them this long.
"Make no mistake: This process took entirely too long. And the tragic reality is that neither a verdict from a judge nor a decision by a police commissioner can reverse what happened on July 17, 2014," stated Davie. "Officer Daniel Pantaleo's termination from the New York City Police Department does not make the death of Eric Garner any less harrowing. But it is heartening to know that some element of justice has been served."
"For over five years, the Garner family and communities across the country have waited for justice in the death of Eric Garner," added James in a statement. "While we will never be able to change the events that transpired or bring Mr. Garner back, today, some semblance of justice is finally being served."