Eric Garner's family wants every cop in incident fired
By NAYABA ARINDE Amsterdam News Editor and STEPHON JOHNSON Amsterdam News Staff | 8/29/2019, 12:47 p.m.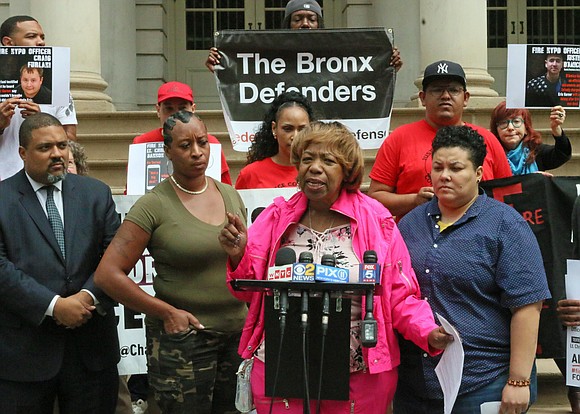 The family of Eric Garner told folks that they wouldn't stop. Looks like they meant it.
Legal representatives for the Garner family and police advocates have filed Freedom of Information Law requests for access to records related to disciplinary investigations related to the killing of Eric Garner. The requests include disciplinary charges brought up against NYPD officials and officers who leaked Garner's sealed records related to his medical history and arrest history.
At this point, as the Garner team awaits a response from the CCRB and the NYPD, Alvin Bragg told the Amsterdam News, "It is Gwen Carr versus de Blasio."
Bragg, the co-director of the New York Law School Racial Justice Project, a visiting professor of law at New York Law School, and the former chief deputy for the New York State Attorney General determined, "Justice requires transparency. There is no legitimate law enforcement reason why—five years later—Mr. Garner's family, criminal justice advocates and the public do not have the fundamentally important information we seek today."
"I want to tell Mayor Bill de Blasio to take action with those other police officers who covered up the murder of my son—who actually lied on official reports," Gwen Carr said on the steps of City Hall with two of her grandsons at the end of a news conference. She told the Amsterdam News, "As a parent—to a parent—I would tell him my son is just as important as anyone else's son. I am sure if that was any of those officers' sons lying on the ground and yelling 'I can't breathe,' it would not be the same situation as my son while he lay dying and everyone looked the other way."
Just a week after the firing of officer Daniel Panteleo, who was seen in the 2014 video holding a dying Eric Garner in an illegal chokehold as he said "I can't breathe" 11 times, Carr told the paper that as for the mayor, "I want him to move forward with their accountability and discipline."
On July 17, 2014, NYPD officers were captured on video arresting Garner on Staten Island, as some witnesses say he was breaking up a fight—but the NYPD claim he was selling untaxed cigarettes. Pantaleo's chokehold, while Garner's said "I can't breathe," lead to his death. Officer William Meems told the Civilian Complaint Review Board that he thought Garner was faking being unconscious. Damico said that he thought Garner was "playing possum."
Last week, NYPD Commissioner James O'Neill announced the firing of Pantaleo. Another officer, Sgt. Kizzy Adonis, was docked 20 vacation days for failing to properly supervise Pantaleo in the arrest of Garner and won't face a departmental trial.
On Tuesday in front of City Hall, the family, along with Communities United for Police Reform, a variety of activist grassroots concerns, and the New York Law School Racial Justice Project, demanded that the New York Police Department fire Officer Justin Damico and others who were involved in the death of Garner. They also want the NYPD and Mayor Bill de Blasio's administration held accountable for their alleged failure in the process.