Bill Cosby Counsels Prisoners Via 'Mann Up' Program
NNPA Newswire Senior Correspondent Stacy M. Brown | 12/2/2019, 9:49 p.m.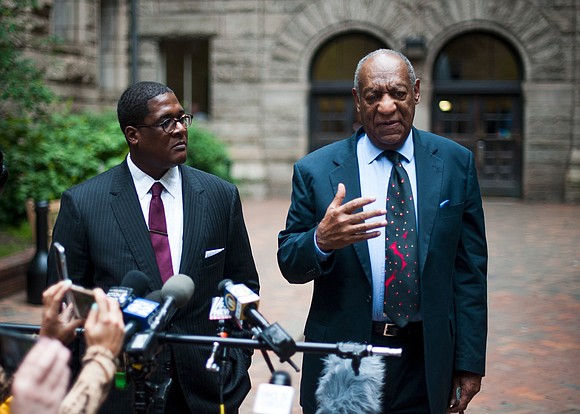 Mann Up, a prison program that's helping to change the lives of African American men with long sentences, has received a significant boost with the presence of Bill Cosby.
The program, which empowers and encourages black males to be better fathers, husbands, and community members, is thriving inside the walls of SCI-Phoenix, the maximum-security prison where Cosby is serving a three-to-ten-year prison sentence.
In addition to Cosby, who is not officially associated with the program, four members of Mann Up spoke exclusively to NNPA Newswire. "The majority of the men in Mann Up are in for long prison terms, including life without the possibility of parole," said Tyree Wallace, co-founder and president of the Mann Up Association.
Wallace has served almost 22 years of a life sentence that he hopes will be overturned. He said the Pennsylvania Innocence Project has taken his case, and attorneys believe he'll ultimately be exonerated.
But, exoneration of its members is not the goal of Mann Up, Wallace stated.
"We founded Mann Up because [Anthony "Bennie-Do" Sutton], my vice president and I came together after we were both aggravated overseeing all these reports of gun violence in Philadelphia," Wallace said.
"What was equally upsetting was that there were very few men responding, it was just women out there on the frontlines. So, we came together in our limited capacity to think about what we can do to make the situation better, to put together a program to help us men be our best selves," he stated.
A national study conducted by the U.S. Department of Justice, revealed that nearly 83 percent of prisoners in 30 states were re-arrested within nine years of their release. For African American men, the rate stands at 87 percent – the highest of any racial or ethnic group.
In Pennsylvania, where SCI-Phoenix houses members of Mann Up, six out of every 10 inmates are re-arrested or incarcerated within three years of their release, according to the Department of Justice.
Also, research from several sources has found that prison programs that help increase inmate education initiatives, contribute to lower recidivism rates, which saves taxpayer dollars.
The RAND Corporation conducted a study in 2018 that found that for every dollar spent on education, between four and five dollars are saved because of lower re-incarceration rates.
Education is a primary focus of Mann Up.
When Cosby arrived at SCI-Phoenix following his 2018 conviction on charges of aggravated indecent assault, the men couldn't fathom what that would mean, not only for the prison but for the Mann Up program.
"Mr. Cosby has been phenomenal. A person with his background and the cache he has could easily suffocate [sic] all of the air in a room if he chooses to," Wallace stated.
"But he has intentionally sat back and allowed us to utilize him as we need him. We know the type of voice that he has and what he brings, but he just plays the role of the grandfather in the room."
Cosby has been tremendous to the program, said Sutton. Adding that Mann Up provides an opportunity for those who've gone astray to "get it right" and have a positive impact on their families and communities.