A play displaying the beauty of Black barbershops premiers at BAM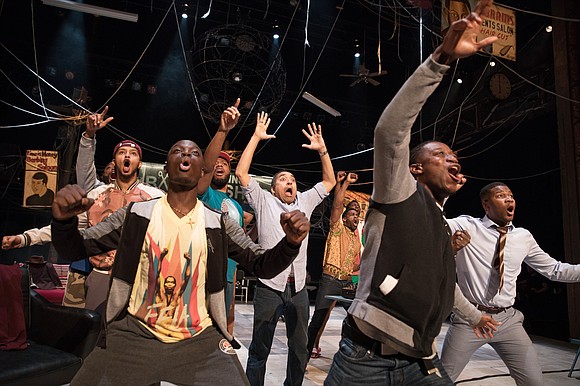 A play from across the pond makes its way to the States.
The "Barber Shop Chronicles" makes its New York debut at the Brooklyn Academy of Music on Dec. 3 after earning critical acclaim in the United Kingdom. Created by playwright Inua Ellams, the play takes dialogue based on 60 hours of recorded banter from barber shops in six different countries and two continents. Ellams wants to show the diversity of Black masculinity via conversations that undercut stereotypes.
When the AmNews asked cast member Anthony Ofoegbu about what he thought when he first found out about the play, he told the AmNews it was time to get away from "traditional" subject matter.
"Jumping from playing Julius Caesar and understudying Titus Andronicus for the Royal Shakespeare Company to a mild-mannered Vermont-er husband, James, in Annie Baker's, Circle Mirror Transformation, I thought re-engaging with a pan-African play was completing the circle of dramatic life with a nod to panache in fortuitous opportunity," Ofoegbu told the AmNews.
The AmNews also spoke to cast member David Webber and asked if the subject matter helped him connect with the material more. Webber said that the subject brought back memories.
"Absolutely!," said Webber. "I have spent many a fascinating and joyous time in barbers in Manchester, London, Kingston Jamaica and LA...they are all different, but have so much in common with each other. So many wonderful characters and fantastic banter."
According to Ellams, he wanted his play to explore the desire to belong and connect the performing arts to the issues of immigration, nationalism, fatherhood, education, sex, marriage and homosexuality.
Directed by Bijan Sheibani, Barber Shop Chronicles  consists of an all-male, 12-person cast riffing on sports, race relations, fatherhood, identity, immigration, and masculinity. The play unites music and dance to connect all of these issues. Black culture across the globe is displayed in a light not often seen in mainstream entertainment despite the plethora of Black-oriented shows and movies.
"In the UK in the 70's and 80's, the presence of African-Caribbeans was more substantial than that of direct Africans from the continent," Ofoegbu told the AmNews. "These were the Windrush Generation and the level of awareness of each other formulated in a way that each were wary of the other. I found myself in black barbershops that were owned and run by Afro-Caribbeans when I became conscious of myself as a teenager."
"I found an instant and beautiful connection with the material in the piece," added Webber. "It has really touched my life. The stories are funny, poignant and beautifully written. They are so relatable and accessible to all... from New Zealand to Los Angeles."
When the audience comes to watch the play Ofoegbu wants them to connect with his character as much as he did.
"The father figure of Emmanuel vibrated with me as a father myself, wanting to explore the African father I had, explore the complexities I felt growing up with an African father, the pressure to succeed in some registered format in a Eurocentric environment, exploring wisdom and purpose, trying to understand, manage and encourage well-being," said Ofoegbu.
Barber Shop Chronicles is a part of Next Wave 2019 where every artist this month is making their BAM debut in the genres of music, dance, theater, film, etc. It's the first New Wave season under Artistic Director David Binder, in which all artists are making BAM debuts.
In conjunction with the play BAM will also co-present Schomburg's barber shop talk A Ballad for Harlem Conversation: Making Community with local barbers Kamal Nuru, of Levels Barbershop, and Polo Greene, of Harlem Masters.
So what should people get out of the play when they leave?
"The diversity of black men," said Webber. "Thirty-three diverse examples that show we are different and yet have important things in common. Our humanity is what audiences relate too."