The Knicks' conflicting priorities call for immediate resolution
JAIME C. HARRIS | 12/5/2019, 2:46 p.m.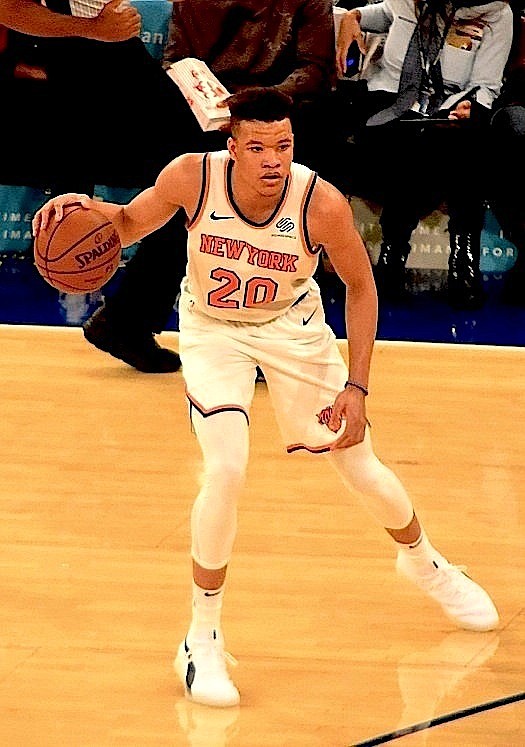 The Knicks must immediately decide if chasing elusive wins or development of their young players is their most pressing and prudent order of business less than two months into this season. They are incompatible goals that cannot be achieved simultaneously.
It may have reached a point at which the Knicks should completely commit to thoroughly assessing Kevin Knox, Mitchell Robinson, Allonzo Trier and Dennis Smith Jr., and consider trading the veterans who understandably may not willingly accept reduced roles. It wouldn't amount to tanking because the Knicks are not going to win many more games no matter who they put on the floor.

The organization's key decision makers have already provided third-year guard Frank Ntilikina and rookie RJ Barrett significant playing time as starters and the opportunity to establish themselves as valuable rotation players.

The Knicks will host the Denver Nuggets tonight at Madison Square Garden with a record of 4-17, this coming off of their meekly contested 132-88 loss to the Milwaukee Bucks on Monday. It was their seventh consecutive defeat.
"It's frustrating cause I felt like we took a step forward from last game," said Knicks head coach David Fizdale in an interview on the MSG Network following the beat down by the Bucks.

"And then I don't think, personally I don't feel like we came in here with the idea that we could beat this team from the beginning," lamented Fizdale, "and that was what was most disappointing. They got whatever they wanted, whenever they wanted, and we never took a real stand."
The Knicks are at the bottom of the Eastern Conference standings and when the NBA schedule began last night were tied with the Golden State Warriors, who were 4-18, for the fewest wins in the league. But the Warriors, and Knicks, circumstances couldn't be more dissimilar.
The Warriors have played in the last five NBA Finals, winning three. In contrast, the Knicks haven't been to the Finals since 1999 and last won a title in 1973. The Warriors, if in good health next season with Stephen Curry, Klay Thompson and Draymond Green, along with DeAngelo Russell, who is also an attractive trade asset, promising young role players, a likely top five draft pick, and an ownership group and front office with a winning track record, will still have a championship core.
Conversely, supposition has begun to spread again that Knicks owner James Dolan has strong interests in luring the Toronto Raptors' president Masai Ujiri to New York to head the franchise's basketball operations. If that indeed materializes and current president Steve Mills, general manager Scott Perry and Fizdale are terminated, it would continue a revolving door of bodies that have been unsuccessful in building a sustainable winning team.

For now, Mills, Perry and Fizdale must institute a coherent and discernible plan. The one they crafted entering this season had a short shelf-life. In theory it was a viable strategy for the makings of a solid foundation. The Knicks signed serviceable veterans to add to young players with encouraging potential. The vision was they would form a competitive team, create a positive culture and become an appealing option for the game's best free-agents.
However, the outcome has been alarming. With the exception of Marcus Morris Jr., none of the newly added veterans have proven to be game changers. Julius Randle, who has put up averages of 17.3 points and a team leading 8.3 rebounds, has been relatively steady but ideally is the fourth or fifth best player on a playoff team.
Overall, the Knicks have a roster replete with role players and collectively lack a clear identity. They lack a singular difference maker that can carry them down the stretch of close games. Most troubling, none of the youngsters, at least not yet, have shown they are likely to be All-Stars. Knox and Robinson, who last season had the look of future cornerstones, have regressed in their second seasons.


It's undeniably been a trying and disappointing season for the Knicks and their fans who are wondering when the franchise's seemingly never-ending rebuild will produce winning results.