Black Spectrum Theatre in Queens: Sassy Mamas and so much more!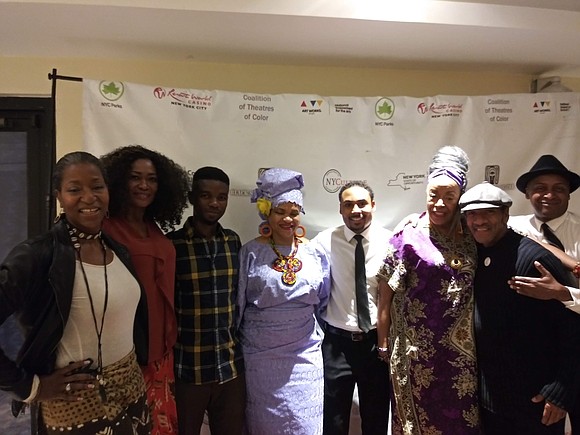 The Black Spectrum Theatre Company in Queens is absolutely a great place to experience marvelously entertaining theater. That's what I experienced when I went to see its production of "Sassy Mamas" and yes, it was as funny as the title sounds.
Written by Celeste Bedford Walker and directed by Lorna Littleway, the play focused on three, older, successful Black women, Wilhelmina, Jo Billie and Mary dating much, much younger men, West, LaDonte and Colby. Wilhelmina and West were delightfully portrayed by Gha'il Rhodes Benjamin and Travis Whitaker and you could feel the heat between them when they took that stage. And of course there were hilarious moments too. Jo Billie and LaDonte were brilliantly portrayed by Jo Ann Cleghorne and Marlon Carter. He did her bidding when she bid it and stayed in an apartment that she paid for. He would have on whatever sexy outfit she had an appetite for. Their relationship was shocking, funny and at times forbidden, but oh, so entertaining to watch. Mary and Colby were gloriously played by Niambi Steele and Fulton Hodges and whatever the relationship, these ladies and young men were having a very good time to a point.
This play just was an example of the fun you can have at Black Spectrum Theatre. But let me also mention what this entertaining and educational treasure in Queens has coming up. The production, "Twas the Night Before Kwanzaa" will run through Dec. 12; in January there will be a Youth Empowerment Day on Jan. 18; Jan. 24-26 it will present a production called "Black Love." In February there will be a tribute to "Mae Jemison" Feb. 11-14. There will be a Ray, Goodman & Brown concert on Feb. 15; Feb. 18-22 there will be the Black Spectrum Theatre Film Festival; Feb. 26, 28-29 and March 1 it will present a production of "Thurgood." March 7-8 will see a production of "Zora Returns to Harlem." The theater has events coming up such as its 50th anniversary celebration and productions such as "Having Our Say."
Whatever entertainment or educational enlightenment need you may feel, go quench it at Black Spectrum Theatre. For more information visit www.blackspectrum.net or call 718-723-1800.