'Bombshell'—suspenseful and deeply satisfying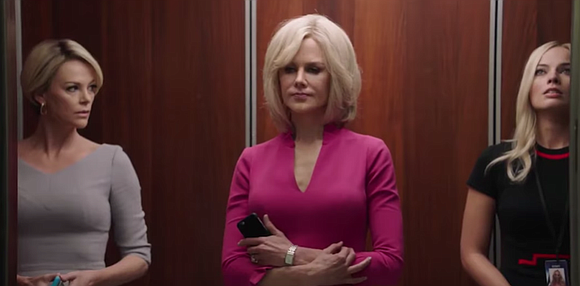 What is the movie "Bombshell" really about? In a nutshell, "Bombshell" is a powerful movie about what selling, in America, has become. It's a film about how dirty America and Americans are. It's a film about selling sex, manufacturing and selling a candidate, manufacturing and selling yourself, and finally about selling the truth—whatever that means in the end. It's also about how all those things came together at Fox News.
Shakespeare said it best in Act 4, Scene 1 of "Macbeth" when one of the witches in the play exclaims, "By the pricking of my thumbs, Something wicked this way comes."
This is a kind of preview of what the film is as well. The title of the film didn't excite me, but the snarky docudrama absolutely did. This is a very well-constructed, meticulous, close-to-the-bone chronicle of how Megyn Kelly (Charlize Theron), one of the key anchors of Fox News, and Gretchen Carlson (Nicole Kidman), the host of "Fox & Friends" made it their business to bring down the devious right-wing mogul-titan Roger Ailes. How? They revealed the twisted system of sexual harassment that he used to run his network. 
"Bombshell" is directed by Jay Roach from a screenplay by Charles Randolph ("The Big Short").
Megyn Kelly and Gretchen Carlson are no longer at the network. The film opens on the 2016 presidential campaign before the Republican debate hosted by Fox News, where Kelly is planning to shake it up for [then] candidate Donald Trump in the form of a question about his despicable behavior and his equally loathsome treatment of women. 
There is drama packed in this story and intrigue as well. On the day of the big debate, backstage, Kelly gets so ill that she throws up repeatedly. It turns out her coffee had been poisoned, which suggests that stepping up and dealing with the right-wing power structure is a dangerous thing to do.
You know what happened. At the debate, Kelly tells the truth about Trump, calling him out on his misogyny and generates headlines. His response is to make degrading remarks about her menstrual cycle which, sadly, generates even bigger headlines. It becomes one of the first of way too many of Trump's vile-joke Twitter memes.
It took guts for Kelly to step up to Trump, and to deal with the startling consequences of his unspeakable remarks. The hurricane dies down and then she agrees to do a one-on-one interview with Trump. In the editing suite, her husband Doug (Mark Duplass) spanks her hands for going too easy on Trump.
Is Kelly responsible for helping the monster that is Trump rise? Is she the very picture of enabling the self-obsessed, delusional, power hunger racist and sexist into office?
Kelly is not a weak woman. A former lawyer not afraid to share her opinions, she decided to confront Trump on the issue of women. The timing was perfect because Fox didn't care much about Trump then. Why? The network (and the world) didn't know what to make of him. 
As Trump's influence grows Kelly bucks the establishment, taking aimed swings at him by standing up for women, and, in so doing, she polishes the secret weapon of Fox News. Think of it as showing a bloody car crash, where people can't and won't look away from the carnage.
Kelly knows firsthand what harassment looks like, being a victim of Ailes herself. Then walks in Kayla Pospisil (Margot Robbie) an ambitious young Christian millennial who gravitates toward the power. She secures a spot on Bill O'Reilly's team and learns the ropes by sleeping with Jess (Kate McKinnon) a closeted lesbian and closeted Hillary supporter.
Playing the power dynamic, Kayla cozies up to Ailes' assistant (Holland Taylor), who is also his procurer. A naive girl or a shrewd player?
When Gretchen Carlson (also a harassment victim) is fired by Fox for trying to do stories that speak to women, she decides to take action when her lawyers come up with the strategy of having her sue Roger personally, but the suit won't stick unless other women come forward and that's the drama of the movie. 
That is the drama. The question that hangs over the story. Will Megyn speak out? Will Kayla stop what's happening to her? 
"Bombshell" has enough to keep an audience riveted. It's filled with office politics, office backbiting and a ton of treachery. It's also widely suspenseful and deeply satisfying.
"Bombshell" directed by Jay Roach. Screenplay by Charles Randolph.
Starring Charlize Theron, Nicole Kidman, Margot Robbie, John Lithgow, Kate McKinnon, Mark Duplass, Malcolm McDowell, Allison Janney, Connie Britton, Alanna Ubach, Spencer Garrett, Brooke Smith, Ben Lawson, Josh Lawson, Marc Evan Jackson.