U.S-based publisher re-arrested in Nigeria in shock courtroom move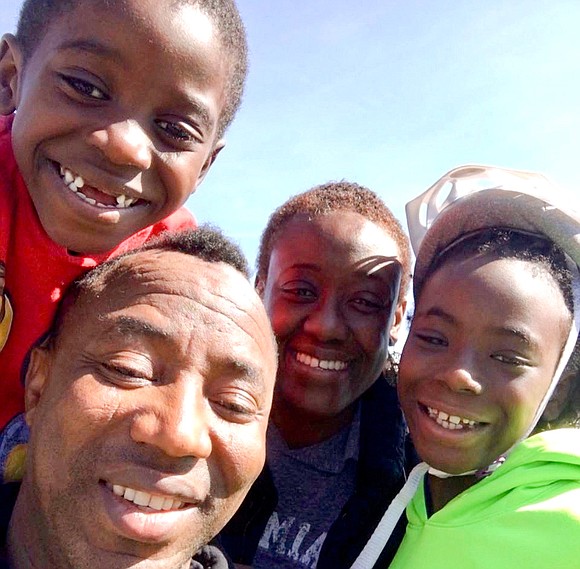 It was a shocking sight that less than 20 hours after being released from alleged "unlawful" detention, New Jersey-based Nigerian activist Omoyele Sowore was tackled in an Abuja court room, and re-arrested on original charges of treason.
"[These will] be my only words on record before they kill me. This is an attempt to assassinate me in court. They came with a gun and they were trying to shoot and they dragged me down in front of a judge after I had been granted bail," Omoyele Sowore wrote in a text to his wife Opeyemi Sowore on Tuesday, Dec. 10, 2019.
Seeing the video of her husband being dragged to the floor, she said, "I was shaking to my core at what was happening after they tackled him."
Looking bewildered and blindsided, Sowore, the publisher of the New York-founded investigative online journal Sahara Reporters, a former Columbia student and CUNY teacher, was manhandled during a court appearance the morning after his release from a four month detention and immediately rearrested.
The Amsterdam News asked Mrs. Opeyemi Sowore how their two children are doing in the midst of all the frightening confusion, and she responded, "They're hanging in there. The day they let him out he spoke to the children. They called on Thursday night after they let him out of detention. After being detained for 125 days, he was happy and hopeful."
Speaking with the Amsterdam News in December 2019, as he ramped up his Nigerian presidential campaign, Sowore told this reporter, "For me I have gotten past that point where I am afraid of anything. I know what I signed up for."
The fear of his family and supporters is real now.
While protestors and vocal supporters warn against any harm befalling the life-long activist, on Thursday, Dec. 12, a rally was scheduled to demand the immediate release of Sowore. Activist Bukola Oreofe, a part of the Free Sowore Now Movement, is pulling no punches as he co-organizes the Nigerian Govt. Free & Stop the Persecution of Omoyele Sowore Protest Rally. Situated outside the Nigeria Consulate, on 2nd and 44th Street, the noon rally was for the purpose of, Oreofe stated, "To speak up against tyranny and the continuous violation of the rights of 'Yele."
The Amsterdam News tried to no avail to get a comment from officials at the Nigerian Consulate, in Manhattan. It is the location where Sowore himself has held many a protest for over a decade.
This week, Mrs. Sowore shared the text from her husband when asked of his state of mind. Sent on Friday, Dec. 6, she said that her husband wrote, "I said it to you yesterday that these are bunch of lawless people and that they were reluctant to respect the order of the court. Now, they have shown it to the whole country. What is important for Nigerians to know is that I am not going to give up until every Nigerian benefits from a country that is theirs and I have made it very clear. They tried to break me in prison. They sent delegations to me offering all kinds and I refused and they promised that I would not walk out of their detention alive. So, that is what they came here to implement today. Nobody in Nigeria should be afraid. This is our country and some people have to make the sacrifice for this country to be a country of rule, of law and of dignity. And this also involves judges. If suspects who have been given bail are not safe in the country, judges themselves are not safe. That is why the judge had to retire hurriedly into her chambers. So, we urge you guys to hang around so that you can witness this. This is a historical day in Nigeria and I am happy that I am part of this history."