Alvin Ailey American Dance Theater season sparkles
Zita Allen | 12/19/2019, 12:03 p.m.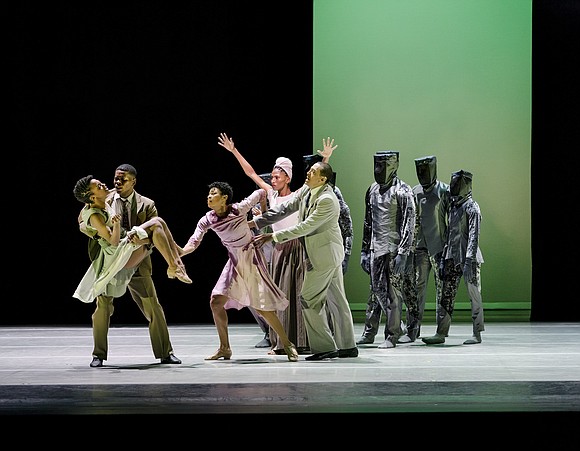 The Alvin Ailey American Dance Theater's season is in full swing from Dec. 4 – Jan. 5 at City Center with five-weeks of performances that promise to rival the sparkle of the Swarovski crystal-studded Times Square ball that will bring in 2020. With two dozen diverse works by some of the world's pre-eminent choreographers, including world premieres by Donald Byrd, and Ailey dancer Jamar Roberts, company premieres by Aszure Barton and Camille A. Brown, and new productions by Judith Jamison and Lar Lubovitch. And, of course, there are the extraordinarily talented and charismatic Ailey dancers.
Artistic Director Robert Battle says, "I'm not only excited about this season's topical works and the range of choreographers, but also that Jamar Roberts is now Ailey's first-ever resident choreographer, and continuing the company's legacy of excellence, works will be staged by three dance masters while we also showcase the artistry of some of today's most sought-after choreographers following in their footsteps." Battle noted that the company will also celebrate the final season of Associate Director Masazumi Chaya, "the untiring and unmatched keeper of the flame whose dedication to Alvin Ailey's vision spans nearly five decades."
On Dec. 4, the company's season gala spotlighted another anniversary––the Ailey School's 50th anniversary––applauding years of world-class training that has served as a springboard for a slew of notable artists, including choreographers Camille A. Brown, Roberts and many of the AAADT dancers. The gala also honored philanthropist Elaine Wynn and her Family Foundation for support which Battle credits with leading to the AAADT's building expansion, that has allowed the organization, especially the Ailey School, to grow and thrive.
From now until a few days after the New Year's Eve ball drops in Time Square, the AAADT will raise the roof with a program that includes Alvin Ailey's timeless, uplifting masterpiece, "Revelations." In fact, the AAADT season roster is a dazzling display of talent. There's the world premiere of Jamar Roberts' "Ode," Darrell Grand Moultrie's "Ounce of Faith," and Donald Byrd's "Greenwood" and company premiers of Aszure Barton's "BUSK," Camille A. Brown's "City of Rain," and new productions of Judith Jamison's "Divining" and Lar Lubovitch's "Fandango." Acclaimed hip hop choreographer Rennie Harris's "Lazarus" returns along with Ronald K. Brown's infectious mix of modern and West African dance idioms in "The Call," and Jessica Lang's "EN." And, if that isn't enough, other works on the season's programs include Jamison's breathtakingly beautiful pas de deux "A Case of You," Battle's brilliant "Ella," "Mass" and "In/Side," Ailey's monumental "Cry," "Memoria," "Night Creature" and, yes, "Revelations."
Such a cornucopia of riches makes it difficult to highlight just one choreographer or work, but award-winning, critically acclaimed Donald Byrd recently shared insights about his provocative new work about a dark chapter in America's past while raising relevant and thought-provoking questions about the troubling present––"Greenwood." Byrd is not one to mince his words and this choreographer who has taken on the racist tropes of the black-face minstrel show and referred to Black Lives Matter or Climate Change, has now chosen to grapple with one of the worst incidents of racial violence in U.S. history––the 1921 Tulsa, Oklahoma massacre by whites of over a thousand Blacks in an affluent African American community in the city's Greenwood district and its surrounding residential area, referred to as "Black Wall Street."