Athletes discuss competing in predominantly white sports
LOIS ELFMAN | 12/19/2019, 3:38 p.m.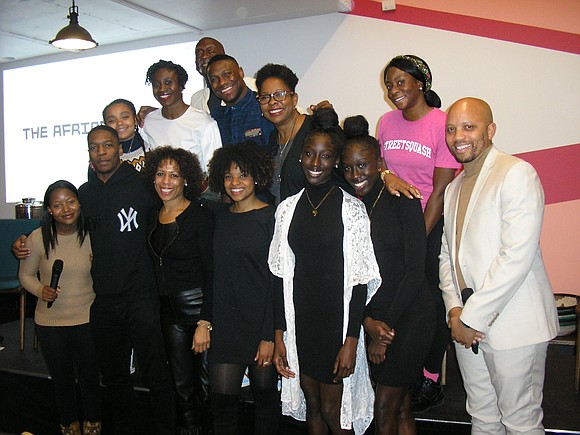 Against the backdrop of the work of artist Thenjiwe Niki Nkosi, titled "Gymnasium," six athletes tackled the topic "Black Bodies/White Spaces: The Sports Edition" at The Africa Center. Moderated by USA Gymnastics Hall of Famer Wendy Hilliard, panelists discussed how they pursued their sports despite at times encountering negativity.
In her work, Nkosi examines what it means for Black and Brown bodies to be in predominantly white spaces and take ownership of a space that was not made for them. Before the panelists answered questions, a brief humorous film was shown in which African Americans spoke about things that Black people don't do, most notably winter sports.
That perception didn't dissuade former triple-jumper turned skeleton athlete Simidele Adeagbo, who made history at the 2018 Olympic Winter Games. "I'm living proof that Black people can do winter sports," said Adeagbo. "It's a matter of access and exposure. Those are the things that are challenges, but stories and narratives…are examples that it can be done.
"I wanted people to see the greatness in African women," she added. "That motivated me every time I stood on top of that scary track. I found the courage to push through it."
Two-time Olympic fencer Daryl Homer grew up in the Bronx and got his entry into fencing through the Peter Westbrook Foundation. While fencing is a predominantly white sport globally, there is diversity on the U.S. team. His current coach is African American.
"It's really helpful to have someone who looks like you," said Homer of a fellow fencer with whom he rooms at competitions. "We listen to the same music. We kick it and relax and talk about things that are frustrating. …It's really helpful to have a community of people around you."
Squash player Simba Muhwati, now chief squash officer at Harlem-based StreetSquash, recalled jeers directed at him during a collegiate match. He felt ready to quit, but the coach used it to motivate him to win. Today, he channels his energies into developing young talent.
Harlem resident Luther Gales, coach of the Harlem Honeys & Bears Synchronized Swimming Team, is a lifelong swimmer and coach who has also run marathons and competed in triathlons. His impact carries over to today's youth, including the youngest panelist, 12-year-old Justine Hill, who participates in the Harlem Honeys & Bears youth swimming program.
Today, Hilliard is the founder of the Wendy Hilliard Gymnastics Foundation, which provides free and low-cost gymnastics programs to NYC and Detroit youth. Once she was a teenage rhythmic gymnast, one of the best in the U.S. in her sport. At the end of a tryout camp the U.S. named its team for the World Championships, and her name wasn't included. A coach told her she stood out too much. A call to her parents resulted in action. USA Gymnastics decided the team would be based on rank order from the U.S. Championships.
"I knew at the time that I had to fight for this," said Hilliard. "This is why I started to become an advocate."