Athletes from near and far participate in the Colgate Women's Games
VINCENT DAVIS | 12/19/2019, 3:19 p.m.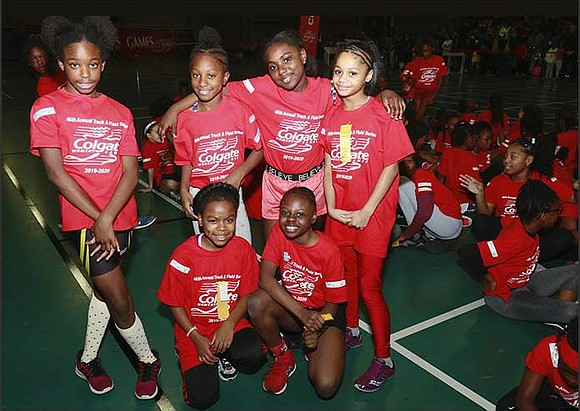 This is the first season that the Colgate Women's Games will take place without its founder, Frederick D. Thompson, Esq., who passed away in January of this year.
Thompson, 85 at his passing, was a former runner, a military veteran, a U.S. Olympic coach and an accomplished attorney who grew up and resided in Brooklyn. He was a graduate of Boys High, City College and St. John's University Law School.
He became a strong advocate for equality in athletic scholarships, events and participation for young women. Thompson's 40-year career as founder and coach of Brooklyn's renowned Atoms Track Club, established in 1963, inspired the creation of the Colgate Women's Games in 1973. Several thousand girls and young women participate each year.
"It was Thompson's lifelong mission and commitment to empower girls and women to achieve personal, athletic and academic achievement through their participation in well-organized sports competitions," stated Meet Director Cheryl Toussaint, a 1972 United States silver medalist in the 4x400 meter relay at the Olympic Games in Munich.
Thompson was inducted into the U.S. Track and Field Hall of Fame earlier this month for his many contributions to the sport, coaching and mentoring dozens of Olympians and world-class athletes.
The Games, in their 46th season, are held at the Pratt Institute Athletic Recreation Center in Brooklyn Friday through Sunday until the semi-finals in January. Registration will end this weekend. Toussaint, a former assistant to Thompson for many years, has been meet director since 2015.
Over the years, the Games have produced 26 Olympians and hundreds of national champions. An astounding amount. In October, a number of women who've competed in the Women's Games won gold medals at the 2019 IAAF World Track and Field Championships in Doha, Qatar.
There are a variety of divisions available for participants, from the elementary school divisions through college and above. The College/Open Division is open to female college students and non-students under 30. The 30's Plus Division is open to women 30 years of age and over.
Participants come from all over the east coast to compete. Peyton Rollins, a junior Olympic champion, a long-time participant and returning finalist, is one of several girls who traveled all the way from Boston. Peyton won the 55 meter-hurdles in 8:13.
Alyssa Durant of Happy Hollow Middle School also traveled from Boston. She won the 55 meter-hurdles in 11.59, and the High Jump bar clearing 4'2"—a personal best.
Toussaint stated, "The distance so many are willing to travel, and the incredible commitment of so many families, friends and coaches who encourage and support their girls and young women are a testimony to the importance of his [Thompson's] legacy."