Four-time gold medalist, Harrison 'Bones' Dillard
Herb Boyd | 12/19/2019, 2:12 p.m.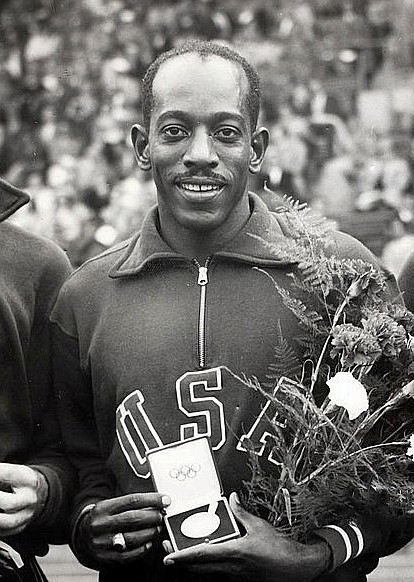 When Harrison Dillard, the four-time Olympic gold medalist, died on Nov. 15, there wasn't the fanfare and notice he received 70 years ago, though several national media outlets lavished praise on the great athlete. Dillard, a lifelong Clevelander and nicknamed "Bones," was 96.
His death was confirmed by a friend, Ted Theodore.
Noted mainly as a hurdler, Dillard also excelled as a sprinter, and there was no greater testament to these capabilities than his successes at the 1948 and 1952 Olympic Games.
The path over these hurdles, so to speak, began when Dillard was 13. "We kids," he told a reporter, "used to take old car seats, burn the fabric off them and then jump over them in the street." It was during this same period that Dillard was among a throng of admiring children at a parade honoring Jesse Owens, the Olympic legend.
Dillard recalled that moment when he saw the great sprinter: "Jesse looked down from an open car and said 'Hi, boys.' I ran home. I said, 'Mama, Mama, I just saw Jesse Owens, and I'm going to be just like him. She said, 'Of course, you are son.' She didn't take it seriously then, but later, when she saw how much it meant to me, she went and cleaned other people's houses and their laundry and cooked for them so she could buy a little more food to build me up."
Dillard followed Owens' trail to East Technical High School, five years after the sprinter had graduated. Owens, Dillard recalled, gave him a new pair of running shoes. After Dillard failed to make the school's track team as a sprinter, Owens convinced him to become a hurdler.
At East Tech, following Owens' advice, he quickly became one of the best sprinters and hurdlers in high school. He won two state titles as a senior in 1941. Ivan Greene, his coach, nicknamed him "Bones," because of his thin build. It was a nickname that would remain with him throughout his life, although he filled out to 158 pounds on a 5-10 frame at his physical peak. It was at Baldwin Wallace College under the tutelage of Eddie Finnigan, that "Bones" refined his skills as he became the world's best hurdler. He led the Yellow Jackets to four Ohio Athletic Conference track crowns.
In the U.S. Army, as a member of the 92nd Division Buffalo Soldiers, Dillard's high school training was significant, and he won several meets as a hurdler. One famous general said that Dillard was "the best goddamn athlete I've ever seen." That was Gen. George S. Patton Jr.
The next hurdle for Dillard was at Baldwin Wallace College in Berea, Ohio. He soon put the little known college on the map, though he had to do most of his training outdoors. During the winter months, the men on the track team had to practice in the girl's gymnasium, which had room for only one hurdle. Dillard said, "I learned to start fast and get there ahead of the big guys so their elbows wouldn't bat me around."