With Irving and LeVert out, Brooklyn is still a top tier team
VINCENT DAVIS | 12/19/2019, 3:26 p.m.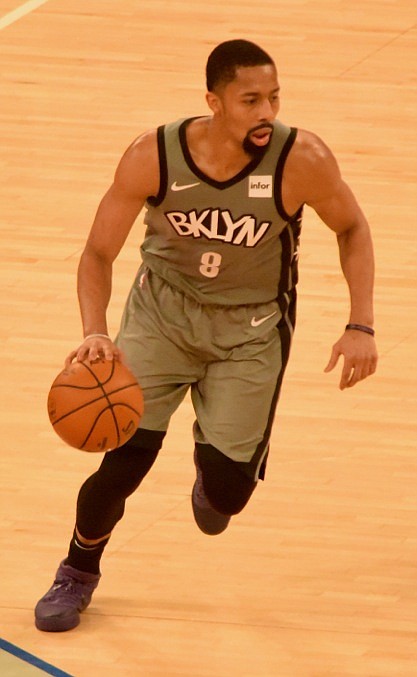 The Brooklyn Nets upcoming schedule, finishing out this year and bringing in the new one, will allow them the opportunity to write the narrative for how they'll be perceived as a team.
Their upcoming games are a mix of ones that they should win and ones that are challenging. Wins against the latter will up their status, and post targets on their backs.
Brooklyn, who played the less than 5-hundred San Antonio Spurs on the road last night, returns to the Barclays Center to face the last place Atlanta Hawks on Saturday, and the New York Knicks the day after Christmas.
The Knicks have one more win than the lowly Hawks, and have just gone through a coaching change, being the first NBA team this season to fire their head coach.
Though no game is "a gimme," an expected win, there is an expectation of the better teams to win. On record, that could be Brooklyn, one of the NBA's better teams.
With Kyrie Irving and Caris LeVert both rehabbing from injuries, Brooklyn has been able to maintain a lower seed in the top 8 teams in the Eastern Conference standings.
Credit Spencer Dinwoodie's and Joe Harris' offense for many of the Nets' achievements. Although they nearly lost Tuesday night's overtime road game against the New Orleans Pelicans, Dinwoodie's 31 points and Harris' 24 helped secure Brooklyn's win.
The two combined scored more than half of the team's points, a 108-101 win. Brooklyn shot 41.7%, 40 of their 96 shots, missing 28-of-39 threes.
"We were pretty bad offensively," acknowledged Dinwoodie.
"If we can hold a team to 100, then we have a chance to win." The Nets did, but they needed five more minutes to do so after struggling with the Pelicans who had lost twelve straight games before playing the Nets.
They'll have to be more astute when they play those more challenging teams; the Houston Rockets and the Minnesota Timberwolves on the road to end the year, and the Dallas Mavericks and the Toronto Raptors to start the new one.