Sayulita: one of the best kept secrets in Mexico
SHERYL NANCE-NASH | 12/19/2019, 2:50 p.m.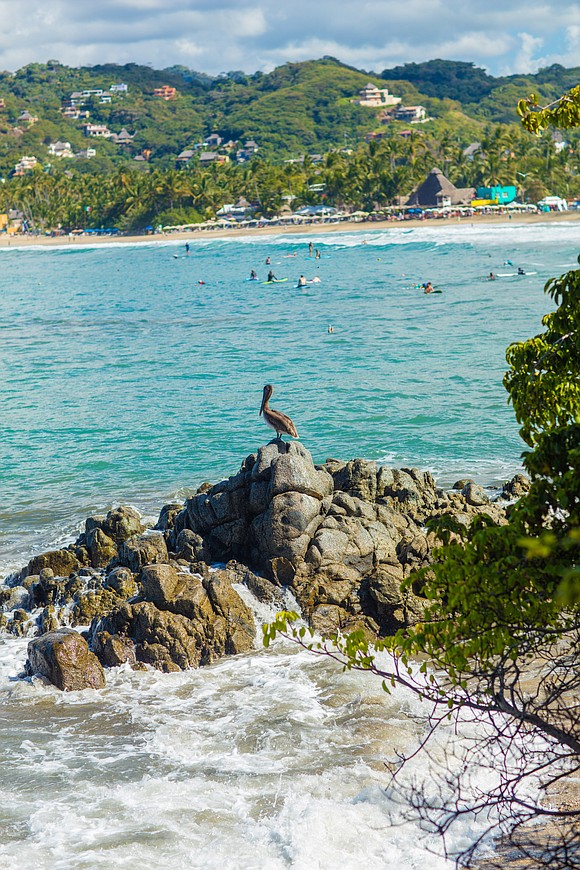 Sayulita is one of the best kept secrets in Riviera Nayarit, Mexico. This bohemian town of 5,000 is colorful and it's not just the pastel buildings, banners, or the murals, but the characters, from the surfer dudes, the locals making and selling their arts and crafts, and everyone in between. Sit in a beachside café and people watch.
The casual vibe is inviting. You won't find much in the way of mega resorts here, and that's part of the charm. Think boutique hotels, hostels, villas, condos and apartments to rent. The main attraction is the beach. This has long been a surfer's haven; word is creeping out to everybody else. For sure you'll want to stay in Sayulita or take a day trip there.
For one thing, the surfs up in Sayulita. Surfers in the know love the waters here. The waves are a testing ground for folks who consider themselves pros, but there's also a break that's kind to rookies. So no matter your skill level, you'll have a good time. You can get surf lessons and rent a board if needed. If surfing isn't your thing, kayak, paddleboard, swim, snorkel, scuba dive, or lay on the beach lounging with a cocktail soaking up the scene.
However, the beach isn't the only thing folks that live in Sayulita can brag about. Second to that is the cuisine. Creative, authentic, downright yummy. You'll forget about looking good in your swimsuit, feasting becomes the priority. Whether you get street food or go in little places that you might have second thoughts about entering, because they are by no means glamorous (but do go in!), or romantic, beachside restaurants, you'll eat well, traditional and nouveau Mexican, seafood, vegetarian, organic and more. Don Pedro's, Don Juan's and ChocoBanana are among the many favored options.
And talk about a twofer. Not only do you get the beach, but less than 15 minutes away from the town's center a jungle awaits. Put your explorer hat on and hike Monkey Mountain. There are also hikes that will lead you on trails and up hills for panoramic views of the Sayulita Bay. Be sure to bring water and food.
Another good thing, while Sayulita is a small community, there's plenty to do. Golf, take an ATV or canopy tour, hop on a horse or go fishing. If you want something more relaxing, there are sailing charters, (and if it's between November and March you may just see a whale), yoga classes and spas where you can get your fill of massages and a variety of pampering treats.
Your senses will be stimulated by the art that is everywhere. Colorful skulls are a recurring theme on buildings and from vendors selling their crafts. Sayulita is about art; you might see a full blown artfully drawn comic strip on a building, a seascape with an incredibly large turtle on another, a virgin Mary painted on a doorway. Then there are art galleries, and shops with ceramics, pottery and locally, hand-crafted jewelry. Better still, you can sometimes catch and watch an artisan at work in their shop.
Sayulita also won't send you home in tears because you busted your budget. You can have a good time and not spend a fortune. It is particularly affordable for families. For example, street food like tacos for a family of four might cost about $10. You can take picnics to the beach and restaurants aren't just for the Rockefellers.
Whether you want to spend a day, or a week in town, the location is ideal. It's less than an hour from Puerto Vallarta airport. And, say you want to mix up your vacation. You can stay at a big resort like Hard Rock Hotel Vallarta and party like that's no tomorrow at the pools, bars and lounges and end your vacay with a short drive to a more low-key setting in Sayulita. No worries, you'll have plenty of accommodations. You can also save money by choosing a hostel or renting condos and villas with full kitchens so you can cook at least some of your meals. Some favorite places to stay in Sayulita include Hotel Villas Amalia, Mi Otra Casa and Casa Nawalli.