World human rights groups activists, electeds call for Sowore to be released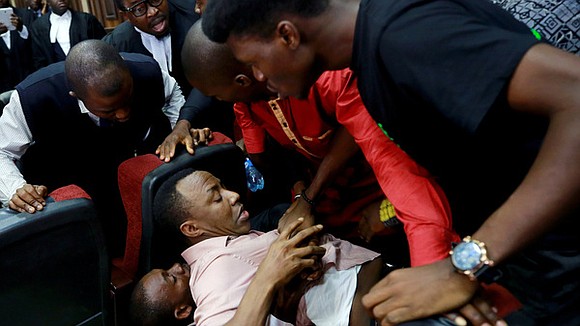 "The whole world is watching!" protestors from Nigeria, to New York, to England, to Canada are chanting during dozens of demonstrations demanding the release of the now re-arrested New Jersey-based publisher Omoyele Sowore.
With "Tie a Yele ribbon" satin symbols adorning trees in his Haworth, Bergen County neighborhood, Sowore supporters have charged that President (Major General) Muhammadu Buhari's government has dashed "fresh wahala" on the embattled journalist and Columbia grad.
"Let's be very clear, the events surrounding Sowore is a part of our journey as a nation," Ogugua Iwelu said.
Cultural advocate Iwelu was a close advisor to Sowore during the presidential campaign Sowore ran this year in Nigeria with his upstart authority-challenging African Action Congress party.
"The current government of Buhari has been exposed as such working on a coverup. Leading to something Sowore made me aware of—that 90% of the system in play in Nigeria is fraudulent. Hence, making it the biggest crime scene in recent time. Sad," concluded Iwelu.
Sowore caught the eye of Nigerians when after his unsuccessful run for the highest office in the land he formed the Revolution Now agenda, which called for "Days of Rage" and a major national rally. Arrested just before the protests, Sowore was charged with treason, cyberstalking and money laundering.
As Buhari on video celebrated his 77th birthday with cake and praise from military men, family and staffers, his government has called into question what, if any, has been Sowore's connection to the notorious Boko Haram terrorist organization.
These new questions come just days after the dramatic and very physical Department of State Service effort to rearrest Sowore in the Federal High Court in Abuja mere hours after his release on Thursday, Dec. 5, after 125 days in detention.
Reports stated that the DSS had questions for Sowore over the allegations that he had an alleged relationship with Boko Haram, Indigenous People Of Ibo and the Islamic Movement of Nigeria.
Nigerian news reported that officials have talked to the Nigerian-born, New Jersey living married father of two. The Premium Times reported that the investigative journalist was interrogated for four hours last week.
While the founder and publisher of the online Sahara Reporters said in December 2018 that he feared no dire consequence, "For me, I have gotten past that point where I am afraid of anything; I know what I signed up for," dozens of supporters at a rally outside the Nigerian consulate last Thursday, Dec. 5, raised concerns that Sowore thought there had been an attempt to jab him with something in the federal courtroom. Supporters made sure that a doctor saw him, but concern remained. Activist Bukola Oreofe, a part of the Free Sowore Now Movement, was joined by a large array of demonstrators who stood in the brisk New York City chill, "To speak up against tyranny and the continuous violation of the rights of 'Yele."
"I am disheartened by reports that Mr. Omoyele Sowore, an activist, journalist and American citizen, was re-arrested by the Nigerian government. President Buhari should heed the previous court rulings, and international sentiment, and immediately free Mr. Sowore, who Amnesty International has labeled a 'Prisoner of Conscience,'" said Democratic Leader Charles E. Schumer. "I commend my colleagues, Senators Menendez and Booker, for leading the charge and I will work closely with them to ensure that Mr. Sowore is not only released but allowed to return home."