World human rights groups activists, electeds call for Sowore to be released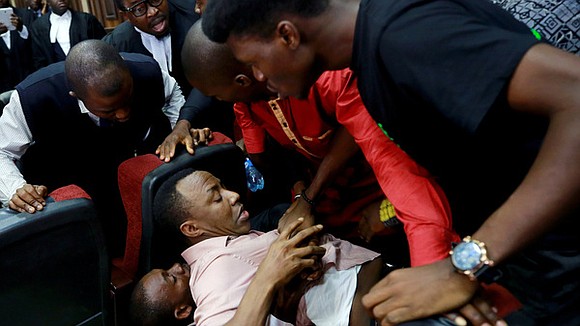 As he works to secure their release, human rights lawyer Femi Falana has slammed the re-arrest of Sowore and Olawale "Mandate" Bakare by the DSS at a Federal High Court in Abuja.
Meanwhile Buhari has dismissed as having no jurisdiction in the matter the foreign demands of organizations such as The George and Amal Clooney Foundation for Justice, Amnesty International and Human Rights Watch.
Stateside, a number of electeds, including Sen. Cory Booker, Sen. Bob Melendez and Sen. Chuck Schumer, have urged the Nigerian government to release the journalist, who has a degree from Columbia and teaches at CUNY.
Weeks after the Aug. 3, 2019 detention of Sowore, Rep. Karen Bass, chair of the Congressional Black Caucus and the House Foreign Affairs Subcommittee on Africa, supported the call for his freedom.
"The right to peaceful protest is a fundamental human right guaranteed under both Nigerian and international law," Bass said. "I stand with the human rights and the international community in declaring that the continued detainment of Mr. Omoyele Sowore is a flagrant violation of his human rights. I also stand with the international community in urging the A.U. and U.N. Special Rapporteurs to secure his immediate release from detention."
A source from the U.S. Senate told the Amsterdam News that support for Sowore's release is growing, and that there should be movement in the upcoming week.