Black Theater Year In Review, Part 1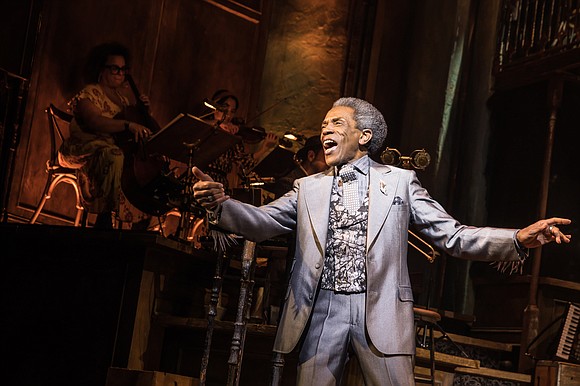 2019 was truly a year of Splendor for Black Theater! It was a year where the great, superbly talented, Andre De Shields, "FINALLY" received his first TONY Award! After 50 years in the business De Shields won his First Tony Award for his role as Hermes in the brand new, very original, Broadway musical "Hadestown." This is a man, who for five decades has been a consummate professional, completely dedicated to and focused on his craft, and he has finally received his due! It was also a year that saw several brilliant works by Black female playwrights like Charly Evon Simpson with "Behind the Sheet," Loy A. Webb with "The Light," Leslie Malaika Lewis with "Miracle In Rwanda," Tori Sampson with "If Pretty Hurts Ugly Must Be a Muhfu—a," Chisa Hutchinson with "Proof of Love," Lydia Diamond with "Toni Stone," Karimah with "Imminently Yours," Deidra McDowell with "Down To Eartha," Celeste Bedford Walker with "Sassy Mamas," Helena D. Lewis with "SHEnanigans," and Anna Deavere Smith with the revival of her play "Fires In The Mirror." When it came to musicals, on Broadway Katori Hall gave us the musical for music icon Tina Turner with "Tina: The Tina Turner Musical" and off-Broadway Lynn Nottage gave us the book for the musical, "The Secret Life of Bees." It was a year that saw a magnificent revival of the brilliance and truth of the late Ntozake Shange's "For Colored Girls Who Have Considered Suicide When The Rainbow Is Enuf." Black male playwrights who did phenomenal work included Larry Muhammad with "Looking for Leroy," Tarell Alvin McCraney with "Choir Boy"––which was transferred to Broadway, Jordan E. Cooper with "Ain't No Mo'," Ishmael Reed with the "Haunting of Lin Manuel Miranda," Rajendra Ramoon Maharaj with "Sweet Lorraine," Keith Hamilton Cobb with "American Moor," Glynn Borders with "The Dark Star From Harlem: The Spectacular Rise of Josephine Baker," Jeff Augustin with "The New Englanders," David Lamb with "The Best Things In Life," and Donja R. Love with "One in Two." It was a year of acknowledging the best in our people and rewarding people like Stephen C. Byrd and Alia Jones Harvey, founders of Front Row Productions and the only lead Black Broadway producers for 13 years and this year receivers of the Producer of the Year 2019 Award from Broadway Global!
When I attended theater in 2019 I found myself excited, inspired, enlightened and at times I felt so emotionally drained, but also grateful. Grateful that our people created works that connect with us all and talked about what we face in our family lives, society and this country. Works we not only relate to, but also learn from.
The year began with "Behind the Sheet," presented by the Ensemble Studio Theatre, a brilliant, riveting production about how the man dubbed the "Father of Gynecology," Dr. J. Marion Sims, received his success through the abuse of his Black female slaves. Sims performed experimental surgical procedures on his Black female slaves he had impregnated and did so without any anesthesia. Even once anesthesia was introduced to the world he didn't use it on his Black slaves because he felt Black women had a higher tolerance for pain. Playwright Charly Evon Simpson showed the audience that "Behind the Sheet" was cruelty, inhumanity and ignorance. She told the play as a tribute to the 10-12 enslaved women whose bodies were used for scientific experiments. The cast was superb and included Naomi Lorrain, Amber Reacuchean Williams, Jehan O. Young, Cristina Pitter, Nia Calloway, Joel Ripka, Megan Tusing and Stephen James Anthony. And it had thought-provoking direction by Colette Robert.