Black Theater Year In Review, Part 1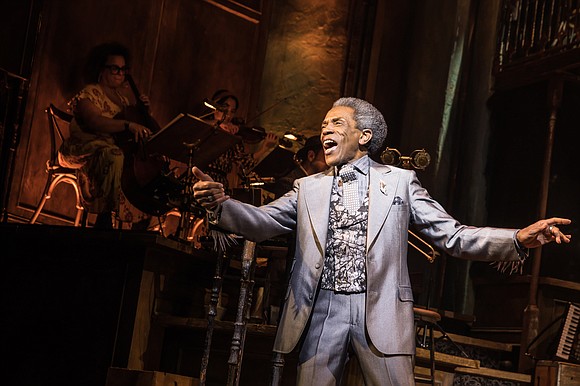 In February "Choir Boy" by Tarell Alvin McCraney was mounted on Broadway at the Samuel J. Friedman Theatre after having a successful off-Broadway run. Presented by Manhattan Theatre Club, it told the story of Pharus, a young gay male at a Black all-boys prep school and it shared all the problems he faced. This was a young man who knew loneliness, rejection and discrimination. He was someone who was mistreated by his classmates and the institution which was supposed to help him become a well-educated and well-rounded young man. The play, which had some fantastic singing and collegiate Step numbers featured an amazing cast which included Jeremy Pope (currently on Broadway in "Ain't Too Proud"); Quintan Johnson; John Clay III, Nicholas L. Ashe; Caleb Eberhardt, Daniel Bellomy, Jonathan Burke, Gerald Caesar and Marcus Gladney, along with Tony Award winner Chuck Cooper and Austin Pendleton. It has mesmerizing direction by Trip Cullman.
Every February one can look forward to the Black Theater Preview that Marcia Pendleton, founder of Walk Tall Girl Productions presented at the Schomburg Center for Research in Black Culture. In 2019 she did it in collaboration with not only the Schomburg, but also NYC Black Theatre Network. What's great about attending this event is that you get to hear about upcoming productions, hear from the creators as to what their works are about and what inspired the stories, see scenes from the plays, and mark your calendars for upcoming shows. There are also panels with playwrights discussing the state of Black theater and Black theater institutions, the struggles they are facing, and their imperative importance in our communities. And did I mention this event is always free? You just have to RSVP.
Check it out.
In March, "The Light," presented by MCC Theater was a story by Loy A. Webb which examined the relationship between Black men and women and left audiences stunned. It looked at the issue of how Black women are sometimes made to feel less than their mates. The play had a powerhouse of emotions and vividly demonstrated how Black men and women view each other. The production featured impeccable performances by Mani Masden and McKinley Belcher III, accented by the splendid direction of Logan Vaughn. Patrick J. Ssenjovu was brilliant and stunning as Kennedy a Kenyan cab driver in "Death of a Driver," which was written by Will Snider and presented by Urban Stages. His co-star was Sarah Baskin and the play about the relationship between the Kenyan cab driver and a white American engineer was at times shocking and brutal. It featured poignant direction by Kim T. Sharp. "Looking For Leroy," was presented by New Federal Theatre at the Castillo Theatre and it looked at the life and legacy of the late Amiri Baraka. It was a stunning tribute to the creative mind of Baraka, written by Larry Muhammad. The two-character play starred Kim Sullivan and Tyler Fauntleroy and it had rich direction by Petronia Paley.
April meant Ben Vereen at Dizzy's Club at Lincoln Center and he dazzled the audience as only Ben Vereen can do, performing Jazz favorites. This man is an entertainment dynamo and he shared that part of his secret is that he relies on prayer and meditation. God bless Mr. Vereen, he is a treasure! No one could ever again look at Black people's relationship to being in this country the same way after seeing the groundbreaking debut production of Jordan E. Cooper, "Ain't No Mo'," which played at the Public Theater. Cooper not only wrote the play but is featured in it. Cooper is a fresh, new voice on the theater scene. Using a variety of scenes he depicted the urgency of the desperate situations that Blacks face in this country, a country they were brought to as cargo. He lays everything out there, painting a total picture, which included Black-on-Black hatred. This emotional juggernaut profoundly impacted the audience who laughed, cried and at times got angry! The ensemble was amazing and included Fedna Jacquet, Marchant Davis, Simone Recasner, Ebony Marshall-Oliver, Crystal Lucas-Perry, and Hermon Whaley Jr. It also had powerful direction by Stevie Walker-Webb. Theater is there to enlighten, educate and reveal the horrible things that people have survived through to become stronger than ever and that was evident when audiences got to experience the one-woman show, "Miracle In Rwanda" about the genocide of over 1 million Tutsis by the Hutu tribe in Rwanda. The play is a true story as told by one of the survivors, Leslie Malaika Lewis. She wrote the play with Edward Vilga and it is the story of her entire family being murdered and her having to be hidden months in another person's bathroom with other females. As if the story wasn't about a powerful enough subject matter, it was even more stunning as it was performed by Rwandan actress Malaika Uwamahoro, who portrays 15 different characters. The production presented on the 25 Anniversary of the genocide was performed at Theater Row with outstanding direction by George Drance.