Charlotte is a shining destination in the Carolinas
SHERYL NANCE-NASH | 12/26/2019, 2:37 p.m.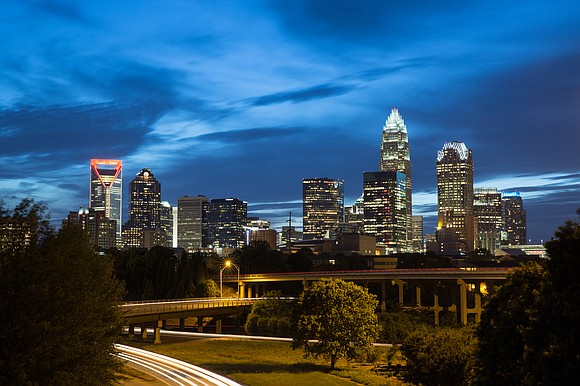 There's a lot of chatter about Charlotte. It's been called the top travel destination in the Carolinas and one of the fastest growing cities in the country. Some say it's the new Atlanta. You probably know a couple of people who've moved there.
For sure a little something-something is going on. Fifty-five new hotels are scheduled to open in the Charlotte region through 2022. Four new hotels opened since January of this year, and in 2018, nine new hotels sprang up. Build it and they will come. And they have. In 2018, the Charlotte region hosted approximately 29.2 million visitors, an increase of 900,000 from 2017, according to research firm Longwoods International. Last year, visitor spending broke records at $7.4 billion.
Charlotte will get a chance to shine in the spotlight as host city of the 2020 Republican National Convention. The curiosity should kill you enough to take a trip to see what's got everybody talking. You won't be disappointed.
What's to love? Plenty.
Bring your appetite
You know you're going to get great old school BBQ and fried chicken, but there's plenty more to the Charlotte food story. Take for example, the recently opened Optimist Hall, a former historic mill that was transformed with $60 million and turned into a food hall with more than 20 eclectic vendors, like Village Juice, Velvet Tacos, Zukku Sushi, Bao and Broth and Honeysuckle Gelato, retail, restaurants, and office space. It's the largest food hall of its kind in North Carolina.
With nearly 40 new restaurants either recently opened or set to open over the next few months, Charlotte has been recognized by several esteemed organizations in the past year including the James Beard Foundation, Andrew Harper's Hideaway Report and OpenTable Top 100––giving the city's culinary scene big props. Beer lovers take note, there are more than 60 breweries in Charlotte and the surrounding area.
There are spots like the 7th Street Public Market, where you can get a beer at Tank's Tap, a hearty breakfast at Uptown Yolk with its specialty, shrimp and grits, or go for Hazelnuts Creperie or Bonzai Fusion Sushi.
Carve out time for culture
Make your way to the museums. Each is uniquely rewarding. The Levine Museum of the New South recounts the history of North Carolina, and more generally the South after Reconstruction. You can get a ticket for $20, for admission to these three museums for 48 hours––The Harvey B. Gantt Center for African American Arts & Culture, Bechtler Museum of Modern Art (which also has jazz concerts) and Mint Museum Uptown. You may not be able to get to all four but hit as many as you can.
Explore neighborhoods
Be sure to get beyond the city's center and into neighborhoods. You don't want to miss NoDa (a nickname of sorts for North Davidson). This is the arts and entertainment district. It's colorful indeed, and it's not only the murals and street art, but the people and the establishments. You'll find breweries, vintage clothing and one-of-a-kind gift shops. You gotta love a vintage clothing store with the name Rat's Nest, or the Smelly Cat Coffee House & Roastery. Then there's the Dog Bar, chill inside watching TV or on the outdoor patio where you can relax with a cocktail or glass wine and your dog can play with other pups on the astro turf. The Evening Muse is one of the neighborhood's top spots for live music. Hungry? There's no shortage of places to eat and drink. Some favorites include Cabo Fish Taco and Haberdish, where you can get cauliflower steak, chicken fried with chimichurri drizzle or perhaps smoked chicken tossed in Alabama white sauce.