Lister brings explosive moves to Globetrotters fans
LOIS ELFMAN | 12/26/2019, 3:10 p.m.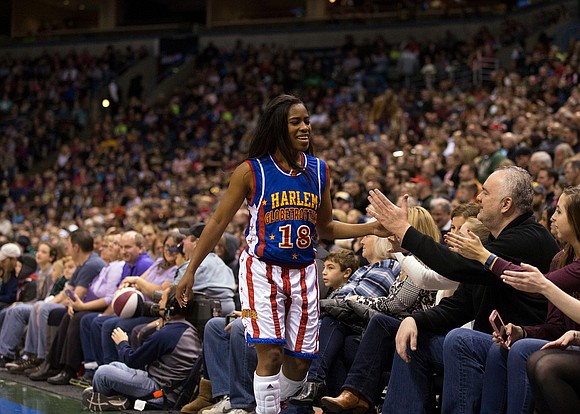 The internationally known Harlem Globetrotters will be entertaining New York area audiences this weekend, starting with a game at Madison Square Garden on Friday afternoon, Dec. 27. Among the players is TNT Lister, who joined the Globetrotters in 2011, the first woman since 1993 to earn a spot on the team.
Lister came to the Globetrotters with some serious basketball cred. She played Division I hoops at Temple University (her name then was Fatima Maddox), where she was coached by Dawn Staley, a member of both the Basketball Hall of Fame and the Women's Basketball Hall of Fame. Prior to trying out for the Globetrotters, Lister played professional basketball in Sweden for two years. Back in Philadelphia, she was training some high school girls when one of the dads suggested she attend a Globetrotters tryout, which she did.
"I played really well that day. I had it going on," Lister recalled. "They invited me to an interview and that went really well. They offered me a contract, and I realized, 'This is a big deal.' They're inviting me to be that woman to open the door back up. Immediately, I knew it was something I wanted to be a part of."
Lister was also inspired by all the community work the Harlem Globetrotters do off the court, especially impacting kids' lives. The flashy style of play fit her personality and she took on the name TNT (Lister is a married name), which is based on her explosive playing style. She aspires to be like Globetrotters legend Curly Neal.
"I had never played organized basketball on a team with all men, so I was curious how this was going to work out," said Lister. "I got pretty lucky. Some of our veterans are really great guys and they kind of took me under their wing and showed me how to become a Harlem Globetrotter—not only on the court, but also at the schools and the hospitals. I like to tell people, I walked in with two brothers, and now I have about 30."
Since Lister joined the organization, several other women have been welcomed into the Globetrotters. She's proud to have played a part. In her nearly nine years wearing the red, white and blue, she's had some incredible experiences, including meeting President Barack Obama at the White House in 2012.
"Growing up, I always dreamed of leaving my mark on basketball," said Lister, who is mother to daughter Kali Rose, 1½. "It says something to young women for me to be the only female on the court. You can tell a little girl a lot of things, but to actually show her has been really rewarding."