Norm Lewis was fantastic at Feinstein's/54 Below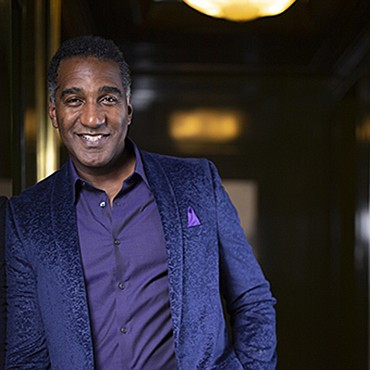 When you hear that a phenomenal talent like Norm Lewis is doing his annual Christmas Show at Feinstein's/54 Below you make plans to experience it and that's exactly what I did. I had the incredible pleasure of sitting in 54 Below on Sunday, Dec. 22, 2019 to catch the final of six days of performances Lewis did for the holiday season. He has been gracing 54 Below for the last five years and his show "Naughty and Nice" definitely lives up to the title.
Lewis, who most people know as the only Black man to be cast in the lead role of the Phantom in Broadway's "Phantom of the Opera," Tony nominee for "Porgy & Bess," star of "Once On This Island" and of course in "Les Miserables", came out at 54 Below from the side, walking through the capacity crowd, adorned in a lovely velvet suit and singing, "Santa Claus Is Coming To Town." He jazzed the number up and had everyone feeling good!
This amazingly gifted thespian talked about those great people who we lost this year. He sang to perfection, a song in memory of Jessie Norman. He talked about performing in "The Music Man" at Kennedy Center and then with the help of the audience he sang "Trouble", as he moved throughout the audience.
He shared how fortunate he feels to be a working actor and how that involves moving around and traveling a lot and because of that, home is wherever he is. "Home is where the heart is and you're my home," Lewis said, and then he serenaded the audience with "Home" from "The Wiz." He was incredible and delivered this number with soul and love!
Songs like "One Little Christmas Tree" by Stevie Wonder were on the menu and it was delightful. Lewis included elements of humor throughout the evening. At one point he asked the audience to shout out the names of their favorite Christmas songs, which they did. To which is responded, "We're not singing those tonight." Lewis focused on the side of the holidays people don't normally acknowledge, the sad side and he talked about how sad and difficult this time of year can be for some people. For those people he sang and did so in character, "Christmas Blues." His facial expressions and gesturing were sad and funny at the same time. He performed a Whitney Houston song from "The Preacher's Wife," "Who Would Imagine A King?"
Giving exposure to another talented performer Lewis introduced Ryan, a young man with a guitar who performed a wonderful rendition of "'Ol Danny Boy," a song his ancestor created the music for. Lewis than returned to the stage and with an angelic voice, performed "Bring Him Home" from "Les Miserables". That is one of my favorite numbers from that musical and he delivered it with power, heart and emotion. I could feel tears swell up in my eyes. BRAVO!
The show took a turn to politics and talking about Vietnam. He discussed starring in "Miss Saigon" and modeling his character after his cousin who was in the Vietnam war, married a Vietnamese women and came back with children to this country. He spoke of Marvin Gaye and his song "What's Going On," that he wrote about the war. As he performed the song, he showed the relevance of this song today, as he called out what's going on—"Climate Crisis," "We got to make our schools safe for children," "We have to stop the madness in Washington, DC.
"Where Does This Peace On Earth Begin?" was the next number. Acknowledging and praising the late director Hal Prince and talking about feeling blessed to have been part of "Phantom of the Opera" on Broadway, Lewis beautifully performed "Music of the Night."
Jokingly he performed, "Why Couldn't It Be Christmas Every Day?" Again, focusing on people who are sad this time of year, Lewis assured them they are not alone. "If you're alone, know you have me with you," he remarked, before performing a warm, delicate rendition of the Barbara Streisand song "People."
"Naughty and Nice" had stunning direction by Richard Jay-Alexander, musical direction and arranging by Joseph Joubert, George Farmer on bass and Parry Cavari on percussion.
This show truly is a tradition at 54 Below, plan for it next year. In the meanwhile in 2020 if you hear that Norm Lewis is performing make plans to go and see him. There is no one that has a voice like Norm Lewis, he has a very distinctive vocal gift that just makes you feel blessed to experience it.