Sowore––New York-based journalist released from Nigeria detention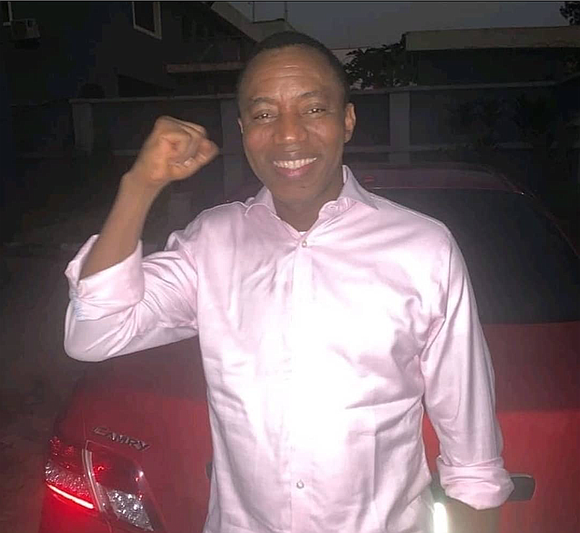 "Sowore is doing well," Opeyemi Sowore told the Amsterdam News on Monday, Dec. 30, 2019––New Year's Eve's Eve. "The children are doing well. It was a wonderful Christmas Day as we were able to talk to Yele."
After Omoyele Sowore's 2019 year of a heady presidential campaign in Nigeria, the Haworth, N.J. resident found himself arrested in Lagos, in August, after he called for revolutionary change in Africa's most populous nation. He was just released last week, after four solid months of international pressure.
"Grateful," but "resolute" is how Opeyemi Sowore told the Amsterdam News said she was feeling last week when news broke that her husband Omoyele Sowore was released from detention in Nigeria. Shortly after noon U.S. time, on Tuesday, December 24, just before the Amsterdam News accelerated holiday deadline, the embattled New Jersey-based Nigerian activist was re-released from an Abuja jail after months in detention. After mounting international pressure, including American electeds Cong. Karen Bass and U.S. Sen. Corey Booker, and U.S. Sen Charles Schumer, Nigerian authorities succumbed to demands for the activist turned (former 2019 presidential candidate), to be released.
In a statement, U.S. Senator Bob Menendez (D-N.J.), Ranking Member of the Senate Foreign Relations Committee told the Amsterdam News, "I'm gratified to hear of Mr. Sowore's release, and I expect the government of Nigeria to ensure his continued safety and security now that he is out of custody. I am hopeful that moving forward we can rely on the Nigerian justice system for a transparent, credible legal process. I plan to continue to closely watch further proceedings in Mr. Sowore's case."
Amidst much furor, Sowore, who lives in New Jersey got his degree from Columbia and taught in CUNY, was arrested in August on a host of charges as he called on revolution to challenge corruption and press for a better standard of living for the masses of Nigerians. Protesters called on Pres. Muhammadu Buhari to release him, including outside the Nigerian Consulate in Manhattan.
Released after 125 days amidst much fanfare, Sowore was re-arrested by the Nigerian Department of Security Services (DSS) the very next day in an Abuja courtroom on Dec. 6, and kept ever since until the day before Christmas.
After his unsuccessful run for the presidency in Nigeria, Sowore had urged his African Action Congress supporters to take to the streets and rally against the status quo. He was picked up in Lagos just before the big national rally was set to take place.
The Amsterdam News was unable to reach anyone at the Nigerian Consulate before press time this week.
Facing charges including treason, and due to go on trial in the new year, Sowore is said to be without his passport, and––as determined by the conditions of his bail––he cannot leave Abuja, Nigeria's capital.
Meanwhile, as of this 'holiday' week, New Jersey mother of two Opeyemi told the Amsterdam News, "While I am grateful for Yele's long overdue release on bail, my No. 1 concern is for his safety. We remain resolute on Yele being cleared of all baseless charges. I look forward to his safe return home to our family in N.J. We continue to pray for a holiday miracle."
Images online and in the news show Sowore as an ecstatic freed man, who now also goes by the label of "prisoner of conscious" amongst many.