Abrams blasts Trump, McConnell for 'Power Grab' after State of the Union Address
Stacy M. Brown, NNPA Newswire Correspondent | 2/6/2019, 10:05 a.m.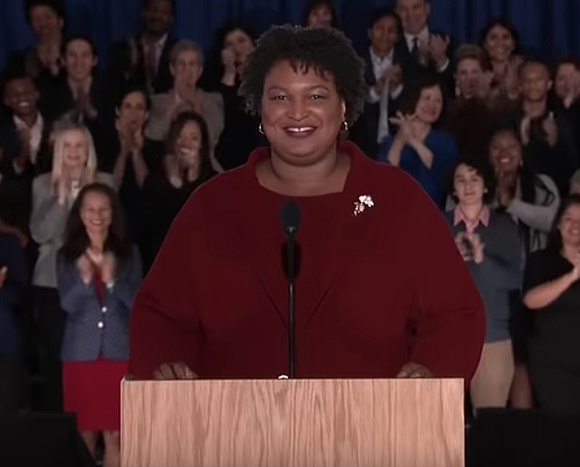 Stacey Abrams may not be the governor of Georgia, but she did make history on Tuesday, Feb. 5.
After patiently waiting in the wings as President Donald Trump used 90 minutes to deliver what was supposed to be a 45-minute State of the Union Address, Abrams provided a scathing Democratic rebuttal to the president's highly-scripted speech to Congress on Tuesday, Feb. 5.
In doing so, Abrams became the first Black woman for either party to deliver a formal response to the State of the Union.
Speaking firmly and with a fervor that has earned her the national stage, the former Georgia Gubernatorial candidate said the "hopes of American families are being crushed" by Republican political leadership.
"In Georgia and around the country, people are striving for a middle class where a salary truly equals economic security," Abrams said.
"But instead, families' hopes are being crushed by Republican leadership that ignores real life or just doesn't understand it."
The response is a tradition undertaken by a representative of the president's opposing party, who gives a speech immediately after the State of the Union to rebut claims made in his address.
According to CBS News, the first rebuttal was delivered by Republican Sen. Everett Dirksen and Rep. Gerald Ford in response to President Lyndon B. Johnson's 1966 State of the Union. Since 2011, there have been responses in English and one in Spanish given by a separate speaker.
The address has usually been given by a member of Congress or a sitting governor, making Abrams an intriguing choice given she doesn't currently hold a political office.
Only one other time has an elected official not holding statewide or federal office given their party's response: Elizabeth Guzman, a Democratic member of the Virginia House of Delegates, delivered the Spanish-language response for Democrats in 2018, CBS reported.
California Attorney General Xavier Becerra gave the Spanish address this year.
However, since losing her gubernatorial bid, Abrams has said she is open to running for political office again.
Abrams talked about family values – taught by her parents.
In one instance on a cold winter night, her family went looking for her father and when they found him walking along a road, he was shivering and without a coat.
"He had given his coat to a homeless man," Abrams said. "I knew he would still be alone when I left him, but I knew you were coming for me," she said, relating her father's words.
"I hold fast to my father's credo, we are coming for a better America," Abrams said.
Abrams railed against Trump and Senate Majority Leader Mitch McConnell over the government shutdown.
Abrams noted McConnell's recent verbal assaults on a House Democratic voting rights and an election bill that he has labeled a Democratic "power grab."
"Voter suppression is real … we can no longer ignore these threats to Democracy. We cannot accept efforts to undermine our right to vote," Abrams said.
"This is the next battle for our democracy, one where all eligible citizens can have their say about the vision we want for our country," she said.